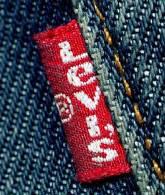 The debut was subdued as competitors Pepe Jeans and Arvind Brands' Lee managed a faster youth connect. It took another six years for Levi Strauss to get its act together in India with the path breaking campaign - 'dangerously low' - and a stronger distribution network.
Levi Strauss, which has just completed 15 years in the country is on a high, cornering 40 per cent share in the Rs 2,000-crore (Rs 20 billion) branded denim market in India.

Analysts, however, say the 40 per cent market share doesn't mean much as the jeans wear segment in India is mainly unorganized. "Levi's is at best an aspirational product and not for daily wear – at least not in India," an analyst says.
Levi's is aware of that and hence has been trying to go down the premium curve to attract newer consumers. Levi Strauss Marketing Director Shyam Sukhramani attributes the success to the company's ability to "innovate simple things and deliver quality".
Consider the innovations that have come at a fairly fast rate. The real game-changer could be the EMI scheme launched in September this year for which Levi's has entered into a tie-up with HDFC Bank and Axis Bank. Under the agreement, customers who purchase merchandise worth a certain minimum amount from Levi's stores using the credit card of partner banks, can convert the transaction to an EMI scheme.
The transaction will be then billed to the consumer in three equal parts over the next three months. The service can be availed without any additional charges.
Levi's was also the first to focus on the women's jeans wear market, supported by celebrity endorsements. It also launched a T-shirt recently that can be worn in 32 different ways.
Sukhramani draws up a long list of other such innovations. "We were the first to launch cargos in the country. Also, we brought about the low-rise, loose fit and slim fit concepts in jeans wear, something unheard of earlier. Levi's also launched the youth brand 'Sykes', which is a non-denim street wear brand.
There is more. When the music-on-the-go or the i-pod craze started and everyone was carrying a music device, Levi's launched Red-Wire jeans which had all the apparatus needed for listening to music, like head phones, etc, built into the jeans. The jeans were priced at Rs 14,000 each.
Sukhramani says to keep the brand relevant and make jeans wear aspirational, Levi's had to speak to young consumers in a language they understand. The company's latest brand ambassador, film star Priyanka Chopra, has thus just launched a collaboration line that Levi's has developed with noted designer Tarun Tahiliani in the Luxe Denim category. More recently, the company launched a collection designed by Damien Hirst, the highest paid designer in the world.
The next set of launches includes super-premium jeans wear line designed by Jean Paul Gaultier and a collaboration that the company has got into with House of Holland from the UK. These would be priced at Rs 10-12,000. "Designers bring in certain concepts and motifs which are unavailable elsewhere," Sukhramani says.
In February, Levi's is planning to launch a new range of jeans wear and apparel, apart from premium innerwear, which will be priced between Rs 300 and Rs 500.
On the retail front, Levi's is investing in large stores to display the entire jeans collection. The company also keeps experimenting with store formats. For instance, it has just launched a new format (600-800 sq ft) which focuses only on jeans wear. It changes the look and feel of the stores in India every three to five years to keep it more contemporary.
Currently, Levi's has over 270 stores in the country. The company is also experimenting with shop-in-shop formats in Bangalore and Hyderabad airports.