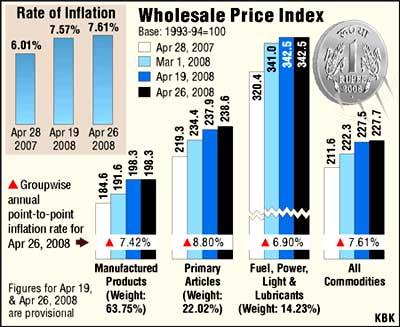 Inflation rose to 42-month high of 7.61 per cent for the week ended April 26 as against 7.57 per cent in the previous week on account of rising food prices and some manufactured products.
The Wholesale Price Index-based inflation stood at 6.01 per cent in the corresponding week a year ago.
During the week, prices of tea jumped by 11 per cent, fruits and vegetables by one per cent, fish marine by two per cent, spices and cardamoms by three per cent.
However, prices of pulses declined by nearly one per cent among manufactured products, prices of mustard oil and imported edible oil went expensive by one per cent and four per cent respectively.
At the same time, cement, aluminium ingots and other aluminium materials hardened.
However, steel prices declined during the week.
Text: PTI
Photograph: KBK Graphics