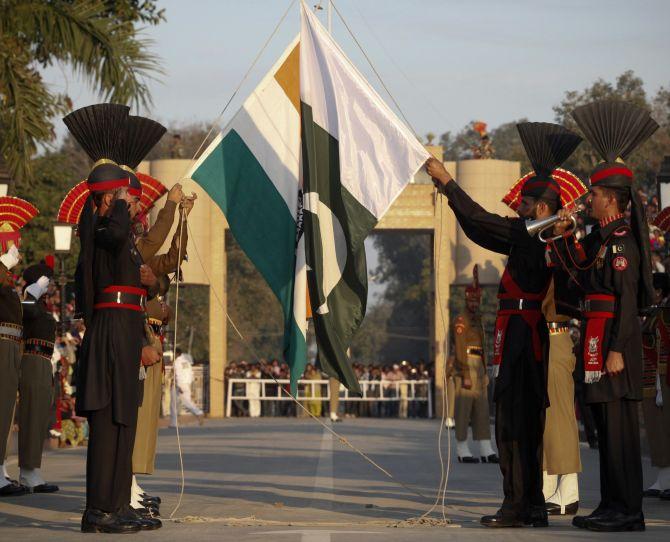 Islamabad has it that they wanted the meet to also take business ties forward; Indian Industry Minister Nirmala Sitharaman sends Safta summit invite to Pakistan counterpart
The recent imbroglio surrounding the meeting between India and Pakistan's national security advisers has also impacted the bilateral trade talks.

Sartaj Aziz, Pakistan's NSA, was coming here with a long-term plan and along with discussions on terrorism, their next agenda would have been how to revive the trade talks.
They would have proposed a date when their commerce minister, Khurram Dastgir Khan, would have met commerce and Industry Minister Nirmala Sitharaman, to take forward the talks on liberalising trade, based on the road map planned in September 2012.

The idea, it is indicated, was that the NSAs would be meeting on the wider agenda of strategic issues and terrorism, while trade and grant of trade parity status would have been touched upon between their foreign secretary, Aizaz Ahmad Chaudhry, and his Indian counterpart, S Jaishankar, for the respective trade ministers to carry on later.

However, India was not keen that Chaudhry accompany Aziz.
This was communicated to Pakistan two days before the NSA talks were to happen. Eventually, the NSA discussion itself got cancelled.

Meanwhile, Sitharaman is learnt to have sent an invitation to all trade ministers of the South Asian Association for Regional Cooperation nations, including Pakistan, for the Safta (South Asian Free Trade Area) Summit, likely on September 28-30 under the aegis of the Confederation of Indian Industry.
Pakistan has yet to respond to this.

Apparently, the Indian government also plans to unilaterally bring 88 per cent of its product lines under a reduced tariff rate of five per cent exclusively for Pakistan by the end of this year.

Pakistan had committed to grant Most Favoured Nation (MFN, the term for non-discriminatory trade access) to India by December 2012.
To get domestic support for this, the Pak government changed the nomenclature to 'non-discriminatory market access', instead of MFN.
However, it has yet to happen. India had granted the MFN status to Pakistan in 1996.
Pakistan had been reluctant to reciprocate, as the trade balance is heavily tilted towards India.

The issue was discussed officially during the visit of Pakistan commerce minister Khan to India in January 2014, when he met then commerce and industry minister Anand Sharma.
Both sides had then decided to operate the Wagah-Attari land customs station on all seven days of the week.
And, to relax the visa regime for business people and also explore alternate trade routes over land.
A joint working group was also set up to explore possibilities of trade in electricity.

Pakistan was also supposed to expand the list of importable items from the current 137 to 500, through the Wagah-Attari border.

All these decisions are still in limbo and might require fresh approvals from the Union Cabinet to go through if trade talks progress.
The talks for normalising trade had begun in November 2011, with the plan to expand bilateral trade to $6 bn by 2015.
It was no more than $2.35 bn in 2014-15, down 12.8 per cent from the $2.7 bn in 2013-2014.
Image: Pakistan Rangers and Indian Border Security Force personnel take part in the daily flag lowering ceremony at the joint border post of Wagah. Photograph: Mohsin Raza/Reuters