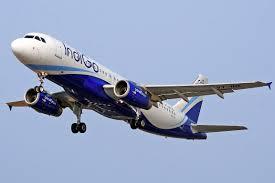 Low-cost carrier IndiGo is close to placing a large order worth billions of dollars for a variety of aircraft and could reach a decision as early as 2015, according to several industry sources.
IndiGo, India's largest airline by market share, could pick up a combination of regional planes that can seat up to 100 passengers, narrowbody aircraft such as the Airbus Group NV A320s that it already operates, and widebody jets for launching medium- to long-haul services, said Binit Somia, the director of South Asia at industry consultancy CAPA, at a conference on Tuesday.
He added that an order was imminent. Two other industry sources familiar with orders by Indian airlines confirmed that the airline was actively looking for aircraft and could make a decision by early 2015.
Both sources declined to be identified as they were not authorised to speak to the media. Officials from IndiGo, India's only profitable carrier, and Airbus could not be reached for comment.
Any plans for widebody aircraft would mark a switch in IndiGo's business model, which has so far focused on domestic and international flights of up to five hours, and make it the first Indian long-haul, low-cost airline.
The company, whose fortunes contrast with other carriers struggling in an Indian market that faces severe overcapacity, is expected to list its shares early next year with an initial public offering that could be worth up to $400 million, three people involved in the deal have said. The order under consideration could include around 100 more A320s, the sources said.
The airline, which competes with SpiceJet Ltd and GoAir in its home market, operates 83 A320 aircraft and placed orders in 2011 for 180 more, largely for the upgraded re-engined A320neo variants, with deliveries expected to begin early next year.
The airline has also inked a deal to take 12 A320s from Singapore's Tiger Airways on lease.
These aircraft will allow IndiGo to retire its older aircraft and keep the average age of its fleet to around six years, helping to keep operating costs down.
The airline could also look at jet and turboprop regional aircraft, such as those built by Brazil's Embraer SA , Canada's Bombardier Inc and European joint venture ATR, the sources said.
These would allow it to connect Indian hubs with smaller cities where there is growing demand for air services but 180-seat A320s would be hard to fill.
If the order includes widebody aircraft like the Airbus A330, it would be able to take on full-service carriers like Jet Airways (India) Ltd , Air India, Emirates Airline and Singapore Airlines Ltd by offering services of eight to nine hours. That would follow similar moves by Southeast Asian carriers such as AirAsia X Bhd , Singapore Airlines subsidiary Scoot, Philippine carrier Cebu Pacific and Australia's Jetstar.
One of the sources cautioned, however, that IndiGo had not made a decision on whether it would move into the medium- to long-haul business.
"That would add unnecessary complexity to what is already a very successful short-haul operation.
Their success has hinged on them keeping things simple. Moving into the medium haul can complicate that. Will they want that?" the source said. (Additional reporting by Tommy Wilkes in NEW DELHI