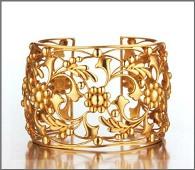 India's gems and jewellery exports grew by 16 per cent at $28 billion last fiscal due to revival in demand in major markets as well as recycling of used diamonds, a top industry official said.
"The revival in demand as well as recycling of diamonds helped the Indian gems and jewellery market grow at 5 per cent annually. Exports grew by 16 per cent," Gems and Jewellery Export Promotion Council (GJEPC) chairman Vasant Mehta told PTI on the sidelines of Indo-Euro Jewellery Summit.
Last fiscal, about $900 billion was sold globally of which about $20 billion came back to India for recycling, he said, adding that these diamonds were again exported back thus maintaining the growth rate.
"Many people sold-off their diamond jewellery during recession. Many also sold the diamonds which were broken or damaged. Such diamonds are returned to India for recutting and repolishing and are again sold as new pieces of jewellery to those markets," he said.
Mehta said that most of the reused diamonds come from the US market. He further added that the exports this year would be positive at more or less the same figure as last fiscal.
He also mentioned that the cut and polished diamond export registered an increase of 20.11 per cent to $17.54 billion in 2009-10 as against the year-ago period.
When asked about the initiatives taken by GJEPC, an apex body of the trade industry under the Ministry of Commerce and Industry, Mehta said the Council was focusing on emerging markets, mainly BRIC as well as the Afro-Asian markets, and have already started exporting gems and jewellery in small volumes.
Mehta, however, said that the US and European markets would still dominate the export volumes. The US and EU together accounts for about 70 per cent of India's total gems and jewellery exports.
The sector contributed 13 per cent to the country's total merchandise export of about $186 billion in the last financial year. Mehta also said that increased value of gold would contribute to achieve positive growth.
The gems and jewellery market, which is pegged at $16 billion, is expected to touch $30 billion by 2014.