Indian students studying in the UAE universities have been badly hit since the rupee began a record free fall this year, forcing some institutes to slash their tuition fees by up to 25 per cent.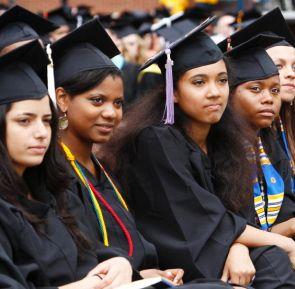 The rupee fell to an all-time low of 18.75 to UAE's currency dirham last month, which also marked the beginning of a new academic year.

Many undergraduate and post-graduate students studying in the country's campuses said the cost of education has gone up by as much as 30-40 per cent, a Gulf News report said.

"We understand how expensive it has become this year for someone from India to come and study here, so we are offering all students a scholarship of 25 per cent on tuition fees for the first year," said Mariam Shaikh, Assistant Vice-President of Amity University, Dubai.

Tuition fees at Amity's Dubai campus for under and post-graduate courses range from 30,000 to 50,000 dirham per year.

"When I first came to Dubai in July 2010, I remember, the rupee hovered at 12.5 to 13 against one dirham. So my combined expenses of 65,000 dirhams for the first couple of years never exceeded Rs 850,000 per year," Happy Dudee, a fourth-year mechanical engineering student at BITS Pilani-Dubai
said.
Now, he said his studies have now become a 'scary proposition'. At today's rate, his expenses stand at more than Rs 11 lakh (Rs 1.1 million), a jump of more than Rs 300,000 or 37 per cent.
Another student, Niyati Sharma, says she has been 'lucky to escape' the rupee free fall, thanks to a six month internship at an Indian multinational last month.
"I have moved out of the hostel for my internship, thus saving a significant portion of hostel fees. Besides, I am going to be paid for the next six months. That will take care of tuition fees for the term," said the fourth year electrical and electronic engineering student.
Pocket allowances have also been hit.
"At the start of my course, my father and I agreed upon Rs 50,000 as pocket money for about five months," said Dudee. "Back then, Rs 50,000 fetched me 4,000 dirham, but now I don't even get 3,000 dirham. So I have had to do odd jobs to make up for the shortfall," says the student, who now works as a part-time events promoter.