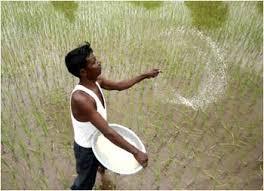 Indian states eager to kick-start major infrastructure projects have proposed radical changes to land acquisition laws that are blamed for stalling billions of dollars' worth of roads, railways, ports and power installations.

According to a confidential government paper seen by Reuters, several states want to do away with obtaining landowners' consent altogether in some cases and to cut through red tape which they say holds up development.

Restrictions to buying land, strengthened under the last Congress government, are among the biggest barriers to projects that include a proposed high-speed rail network championed by incoming Prime Minister Narendra Modi.

The reformist 63-year-old leader won India's strongest mandate in 30 years in a general election in May, but lacks a majority in the upper house of parliament that represents India's 29 states.

That will force him to strike a bargain to implement his ambitious economic growth agenda.

"We have to find an equilibrium, we have discussed the land acquisition law with the states and I have taken the suggestions to the prime minister," Road Transport and Highways Minister Nitin Gadkari told an industry conference on Tuesday.

Demand for land in densely-populated India has led to increasing tension between investment needed to create jobs for the one million people who enter the workforce each month and the interests of farmers and tribal communities.

The land purchase law enacted by the last government sets compensation to landholders at four times the market price and requires the approval of 80 per cent of landowners for any deal.

It also requires a social impact study involving public hearings -- procedures that industry executives say can drag out the acquisition process for years.

LAND SALES HAVE STALLED

At a meeting with the federal government late last month, the states proposed an overhaul of the land acquisition law.

Since the changes came into force in January, there has been no major sale of land.

In the government paper, the states proposed removing a requirement to get landholders' consent in the case of public-private partnership projects, or at least bring the threshold down to 50 percent of affected landowners.

They have also asked that the social impact study be either dropped altogether or confined to projects where large tracts of land are being acquired, the document said.

Gadkari was last month put in
charge of the rural development ministry which framed the land ownership law, giving him powers to push through change.
Relaxing land acquisition laws alone may not be enough to fill an infrastructure shortfall estimated to cut annual gross domestic product in Asia's third-largest economy by two per cent. Private companies have long struggled to get environmental and forest clearances for new projects and other government approvals, stalling construction of roads, power plants and port facilities.
Capital-constrained banks are also lending much less money to the infrastructure sector than they did before the economy slowed, curbing funding for new and existing schemes.
A total of 189 projects, including $10 billion in highways, are stalled because of difficulties with land acquisition, environment clearances and red tape, Gadkari's ministry says.
LAWS TIGHTENED TO PROTECT FARMERS
Modi himself enjoys a reputation as a builder, removing political and regulatory hurdles in his home state of Gujarat, when he was chief minister, that have stalled infrastructure and factory projects in other parts of India.
In 2008 he sent a text message to invite Ratan Tata, former head of India's Tata conglomerate, to build a factory to produce the world's cheapest car in Gujarat after protests over land acquisition stalled the project in West Bengal state.
The land in Gujarat was transferred to Tata within days.
Industry leaders say the biggest challenge they face is getting landowners' agreement to sell, and that it would be better if the government intervened.
"If you are a family of four people, would all of you agree on everything?
Land acquisition should ideally be done by the government and handed over to industry," said VR Sharma, a former deputy managing director at Jindal Steel and Power.
The states have also urged the government to review the definition of people affected by a land acquisition, saying it was too broad and costly.
At the moment compensation must be paid not only to residents, but also farm labourers, tenants, sharecroppers and workers in the area three years prior to acquisition.
"The definition of 'affected family' is too large and it will create immense problems in land acquisition," the government of Uttar Pradesh, India's most populous, was quoted as saying in the position paper.
The laws were tightened last year to prevent the government taking land from farmers, tribes and small communities, which proponents of the changes said violated their rights and dated back to the colonial era.