Aldo, Charles & Keith, Pavers England, Hush Puppies, Clarks, Steve Madden, Tod's and Bally, Louis Vuitton, Jimmy Choo and Longchamp have all come to India. For Woods, this is a validation of the promise that the market holds out.
TE Narasimhan reports.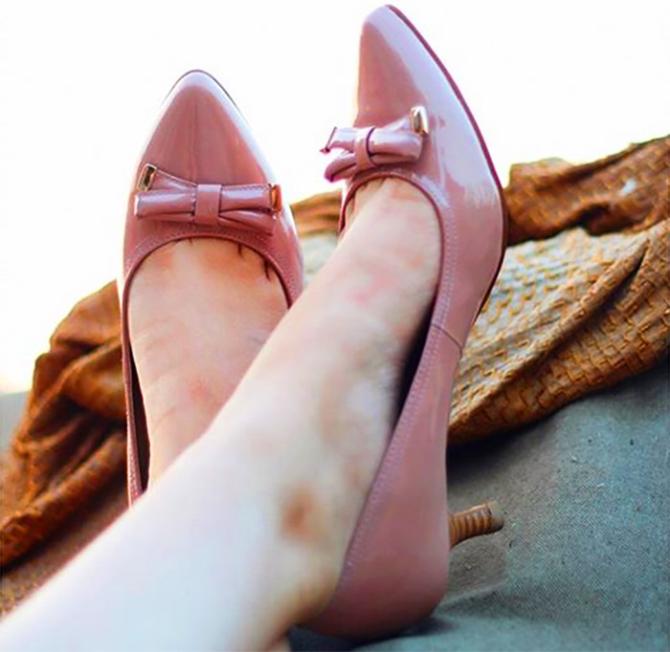 Photograph: Courtesy WoodsCollection/Facebook
Even as premium and luxury shoemakers from around the globe, such as Jimmy Choo, Bally, Pavers England and Charles & Keith sweat it out for a slice of the organised shoe market in India, homegrown brand Woods is going in for a makeover.
Having moved out of parent Woodlands' shadow into stand-alone stores, it is revamping the retail experience, while defining its identity and clientele more sharply.
To start with, the shoemaker wants to differentiate its brand identity from that of Woodlands. Woods is a casual-premium brand, different from the mass-casual market that Woodlands caters to, says Harkirat Singh, managing director of Aero Group, which owns both Woodland and Woods brands.
"Woods won't piggyback on Woodland any more. Woods conveys a philosophy which is quite opposite to Woodland, which deals in the casual-outdoor-adventure segment."
The two operate in separate price bands.
Woodland shoes retail in the range of ₹3,000-5,000; Woods is priced between ₹5,000 and ₹12,000, in the premium and luxury band.
The premium and luxury market for shoes in India is extremely small.
India annually produces 2.1 billion pairs, of which about 90 per cent are consumed internally.
According to a report by CARE (Indian retail industry-Structure and Prospects), organised footwear accounts for just 2 per cent of the organised retail market. Of this, the premium market is an even thinner slice.
India's total retail market is worth ₹33,592 crore, growing at 18 per cent, and is expected to cross ₹54,000 crore by next year.
According to analysts, the premium and luxury footwear segment amounts to ₹1,000-1,500 crore.
For Woods, however, the numbers are not a deterrent.
The company says the Indian youth is more aware of brands than earlier generations.
Also, various consumer surveys powering the company's thrust into the segment indicate there is a growing demand for designer footwear that is also sturdy and tenacious enough for the Indian environment.
This has led to the entry of a number of international brands into the segment.
Aldo, Charles & Keith, Pavers England, Hush Puppies, Clarks, Steve Madden, Tod's and Bally, among others, are available in India either through exclusive stores or through multi-brand outlets.
Louis Vuitton and Jimmy Choo (now owned by Michel Kors), the luxury footwear brands in the world, have opened exclusive stores in India.
Recently, French luxury brand Longchamp entered India and opened its first store at the DLF Emporio mall in Delhi. It plans to open a few more over the next year.
For Woods, the entry of big international names is a validation of the promise that the market holds out.
The first Woods Store in Delhi, an exclusive all-leather footwear and allied lifestyle accessories outlet, was opened recently.
Singh says in the next two years, the company will open around 25 Woods stores. Each store would involve an investment of ₹2-2.5 crore, he said.
The company has also tied up with Amazon and Flipkart.
For a long time now, the Woods brand has been a part of the Woodland stores. Almost 60 per cent of Woodland stores sell Woods products; it is also sold through multi-brand stores such as Shoppers Stop, Lifestyle and others.
Of a total revenue of ₹1,350 crore, around 20 per cent was from the Woods brand in 2016-17. The number, Singh says, has been growing consistently at 15-20 per cent.
"Today the brand has matured enough to have separate stores."
Singh is targeting the millennial consumer.
He believes there is greater acceptance for brands with the look and feel of Woods today than earlier. Well-travelled and more exposed to global styles, these customers are hungrier for brands that meet their standards at home.
Singh says the current market presents a dilemma for the brand in that while Woods has seen a steady acceptance by Woodland customers, it has failed to evolve into its own label.
He is clear he does not want to develop it as a sub-brand. That was why he started stand-alone stores. The viability of Woods as a stand-alone brand may not be as good as Woods in Woodland stores. But, this will help create its identity and push the brand on a higher growth trajectory Singh says.
The brand is also planning to venture into shirts, T-shirts, dresses and party wear. The company has hired a team of designers and a new line-up is expected by September.
The company is also on the lookout for a suitable endorser for the Woods brand and it plans to spend nearly 7-8 per cent of the sales budget on marketing alone.