Indian Railways said it would rope in home-grown talent to develop world-class stations as foreign consultants were charging exorbitant fees.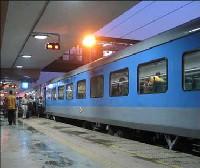 Union Railway Minister Mamata Banerjee had in her Budget speech in 2009 promised to convert as many as 50 railway stations into world-class stations.

"Hiring a foreign consultant is a costly affair," Central Railway Board chairman Vivek Sahay said here without naming any consultant and added, "They charge Rs 40 crore-Rs 45 crore for the job which an Indian contractor would do at Rs 2 crore-Rs 3 crore to design a world class railway station."

Habibganj Railway station of Bhopal is also included in the project. However, the railways have yet not moved on it since its announcement in Parliament.

Sahay also said, creation of a world class design was not a tough task for any Indian architects who design world class malls everywhere these days.

On issues of conversion of narrow gauge lines into broad gauge that falls on tiger reserves and national parks, Sahay said, "There will be a solution to it soon, we will discuss the matter with Union environment and forest ministry. We also want tigers in our national parks." He, however, did not divulge the details of the solution.

Union environment ministry has objected the passing of some railway tracks projects in the vicinity of national parks like Kanha and Pench.

The CRB chairman also said, "There are some other states like Gujarat, Karnataka and Assam where this conversion is to be made, we will soon have solution to it."