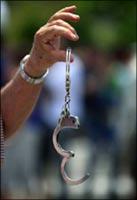 An Indian-American woman with close ties to disgraced former Illinois Governor Rod Blagojevich has been sentenced to four years of probation and ordered to pay $200,000 in fines and restitution after she pleaded guilty to billing the state for drug tests her firm never performed.

The 60-year-old Anita Mahajan, a former state contractor and wife of Amrish Mahajan -- a major fundraiser for Blagojevich, apologised as she stood before Judge James Obbish to plead guilty to a reduced count of theft of $99,900, the Chicago Tribune reported.

"I'm sorry," the ponytailed grandmother, wearing a purple sweater and black slacks, said in court yesterday wiping away tears with tissue.

She also agreed to pay $200,000 -- $125,000 in restitution, $43,000 in fines and $32,000 to the state's attorney's office. She also must perform 1,500 hours of community service as part of her plea agreement.

Anita was indicted on May 2007 on charges that her urinalysis company K K BioScience submitted bogus bills for drug screenings for clients of the Illinois Department of Children and Family Services.
"This case had huge holes from the beginning, and the state wildly overshot," her attorney Steven Miller was quoted as saying.
He alleged the prosecutors offered to drop the investigation if Anita provided evidence against the Blagojeviches.
According to the paper, she faced at least a minimum of 6 years in prison if convicted of the other most serious charges, which alleged more than $2 million in fraudulent claims.
Anita "voluntarily pleaded guilty" and prosecutors were pleased with the outcome, Cook County State's Attorney Anita Alvarez said in a statement.
K K Bio-Science came under scrutiny after the Tribune reported that Anita Mahajan and her banker husband Amrish had hired Blagojevich's wife Patti for several real estate deals that made the state's former first lady earn $113,000 in commissions.
Amrish, who was appointed to the Chicago Plan Commission in 1989 by then Mayor Richard Daley, has held many fundraisers for Blagojevich -- who was charged with trying to sell President Barack Obama's vacant Senate seat -- amounting to at least $500,000.
He was so well-known to the former governor and his family that Blagojevich's children called him "Uncle Amrish."
A pending civil suit against Anita Mahajan brought by Attorney General Lisa Madigan is expected to be settled later this week, Miller was quoted as saying.
Anita's guilty plea of felony theft only related to a fraction of the $2.1 million prosecutors had claimed she swiped from the state through false billings and overbillings by her now defunct urinalysis firm K K Bio-Science Inc.
K K Bio-Science had a long-standing contract to conduct drug testing on children and parents being monitored by the state's child-welfare system.
Anita, who has family in India, will be allowed to travel overseas while she remains on probation.
After Monday's hearing, her attorney Miller said the probe into his client's case was "unprofessional."
Miller claimed that when the accusations against Anita surfaced four years ago, a senior official in the state attorney's office promised that she would not be indicted if she provided information about the then Governor and his wife.
"I was frankly shocked and appalled," Miller said, adding that Anita knew nothing that would help the authorities in their then investigation on Blagojevich.
Miller said Anita admitted there were billing irregularities but said she did not know much about K K Bio-Science, a business she inherited from her late father, a state toxicologist.
While she may have inadvertently overbilled in some instances, there were many times when she underbilled for her services, Miller said.