In a historic first, Abdul Arain, an Indian-origin local grocer whose customers include Nobel laureate Amartya Sen, is among four individuals nominated to contest the election to become the 108th chancellor of the University of Cambridge.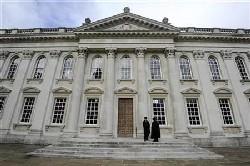 Prince Philip, the Duke of Edinburgh, has been the chancellor since 1976 and is due to retire from the post at the end of June. Voting for the constitutional head of the 802-year-old university will take place on 14 and 15 October.

Arain, 46, was born in Kenya and has family roots in Jalandhar, where his father was born.

Arain said, "I have received lots support from Indian academics and students at Cambridge, besides senior members of the Senate. Lot of people in Cambridge know me, and know what I stand for. I have support from both, the town and the gown." Arain has received "well in excess" of the required 50 nominations that enable him to contest the election.

The other three candidates are Lord Sainsbury (the official candidate), actor Brian Blessed and high-profile barrister Michael Mansfield.

If Arain is elected in October, he will become the 108th chancellor of the university since Hugh de Hottun was first elected to the post in 1246.

The principal public role of the office is the conferment of Honorary Degrees at an impressive annual ceremony.

Arain recalls that Amartya Sen, who was Master of Trinity College from 1998 to 2004, was a regular visitor to his popular grocery store called 'Al-Amin' on Mill Road. Arain describes the store as a "melting pot of cuisines and cultures."

He said, "Professor Sen would come in with his family and stock up on Bengali hilsa fish, dal pulses, chillies and turmeric, curry leaves. The store caters to Indian, African and Mediterranean
cuisine, so lots of people from Cambridge visit us."
Arain moved to Cambridge from Kenya in 1980. He has an MBA degree from Cambridge, and worked as an auditor before starting the grocery store.
A popular figure among people inside and outside the university in Cambridge, he said the local people "wanted someone who could relate to them."
Feeling "honoured" to receive the required support to stand for the election, Arain said his nomination was achieved mainly through "word-of-mouth" by academics and former students who lived in the area and used his shop.
Arain, who has family in Mumbai and visits India often, said he was running for the post because he felt passionately about his family and the local community he worked in, and did not wish to see supermarket chains "depleting the area".
The sub-text of the contest is Arain's opposition to retail major Sainsbury's opening a giant store on Mill Road, which would adversely affect his business.
The Sainsbury's chain across the UK is owned by Lord Sainsbury, the official candidate. Arain said, "It is about local pride. One of the reasons I am standing is to highlight the opposition to a Sainsburys opening in Mill Road. My worry is that Cambridge will end up like a clone town and this must be stopped. Big supermarkets like Sainsburys and the others are damaging independent traders and pricing them out of the market and it has to stop."
His grocery store, Al-Amin, is described thus: "It is a passionate, compelling bazaar of multicultural ingredients and inspiration where you can witness food demonstrations by ethnic culinary experts or feel confident to bring it all back home and experiment in your own kitchen, using the same ingredients that you would buy in some far-flung land.
This makes Al Amin a truly authentic experience, and much more than simply a place to shop."