Coffee Board of India has signed on P V Sindhu, P Gopichand and Prabhas and Rana Daggubatti from the Baahubali star cast as brand ambassadors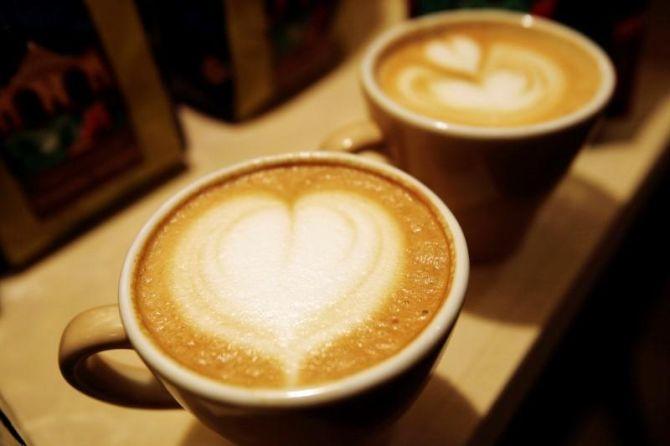 The Coffee Board of India is stepping out of its decades-old sedate and indistinct existence as a government-owned promotional platform.
It has signed on P V Sindhu, P Gopichand and Prabhas and Rana Daggubatti from the Baahubali star cast as brand ambassadors for Indian coffee and plans to expand the iconic Indian Coffee House franchise, besides overhauling the look and ambience of the chain.
But as it gets all set to shift gears on branding the brew, many say that the Board's big challenge will be building an identity that resonates with young coffee drinkers and breaking through the clutter in the market.
The Coffee Board of India however sees a different challenge at hand, that of expanding the market.
The per capita coffee consumption in India is about 200 grams, way lower than the average 7-8 kgs in the West.
This is proving to be a stumbling block for all coffee chains in the country, whose ambitious branding and marketing initiatives have not managed to popularise the brew to the extent that they would have hoped it would.
For the Board, low consumption is an even bigger problem as it puts the livelihood of coffee growers at risk.
It therefore wants to get more aggressive with its coffee promotions, hoping to push up overall consumption and create an identity for the Indian filter and Indian Coffee House.
"It would be a difficult situation for the growers unless the domestic consumption expands," said Y Raghuramulu, director of Research, Coffee Board. He adds that the Board has to change to keep up with the times.
"We need to brand everything," he added.
The Board is run as an initiative under the Ministry of Commerce and it plays the role of a via media between the government, coffee growers and the retail trade.
It is associated with Indian Coffee Houses run by its employees' cooperative.
According to the Board, it has the infrastructure and the product and if it can market this effectively it could not only stay relevant in the age of Starbucks and Café Coffee Day, but also help the community of growers by driving up coffee consumption.
The Board has plans to expand its franchise nearly five times and is talking to the private sector to bring them on board as partners.
It also plans to install co-branded vending machines and kiosks, said Raghuramulu.
Its recently launched campaign #KaapiBreak stresses upon the importance of coffee and the Board.
It plans to team up with Sony Pictures Network and Star TV for product placements on future editions of Satyameva Jayate and Kaun Banega Crorepati, for which the discussions are on, said Raghuramulu.
The Board is also exploring the market for coffee brewing merchandise. It claims it has developed a stainless steel filter that provides better brew in less time.
In this it competes with Coffee Day Beverages that offers bean-to-cup machines for out-of-home locations including offices through its Café Coffee Day chain of stores.
Coffee Board officials said that Lavazza's Fresh and Honest brand was also an early leader in this space.
The Board believes it can leverage its longstanding association with coffee to edge out competitors.
Raghuramulu points out that India could take lessons on coffee branding from countries like Cambodia, Vietnam and Myanmar.
These countries are doing a lot of things in packaging, value addition, presenting and marketing of the coffee.
"We need to do a lot in branding and marketing," he said.
In many ways the Coffee Board has failed to capitalise on its unique position in the country.
Several global chains now offer Indian filter on their menu and some have even successfully taken regional coffee brands international, while the Board has struggled to keep its franchise profitable.
For instance Araku, an upmarket coffee house in Paris takes its name from a coffee growing area in northern Andhra Pradesh that produces Arabica coffee.
The Board could have capitalised on the same, or ensured a GI tag for coffee from the region.
The Board has been hamstrung by the bureaucratic clamps on its operational wheels and the fact that coffee consumption, traditionally, has been a home affair.
Its first attempt at setting up branded outlets was in the 1940s with India Coffee House, but this shut down within a decade as the concept of stepping out of the home for coffee was limited to a few sections of society in few cities.
In 1957, the India Coffee Board Workers Cooperative Society revived the franchise under a new name: Indian Coffee House and set up a store in New Delhi.
The society now has over 51 outlets and associate canteens in all major towns and in government establishments, with the majority in Kerala.
"By next year, we will have modern, clean, cool and affordable coffee houses across India offering Indian filter coffee and snacks," Srivatsa Krishna, CEO and secretary, Coffee Board, said at a retail summit recently.
And by promoting coffee more aggressively inside and outside the house, he believes that they can give tea, the country's national drink, a run for its popularity.
Photograph: Daniel LeClair/Reuters