With domestic output stagnating, India will become a net importer of natural gas in next two years with expensive LNG meeting rising energy demand of the growing economy.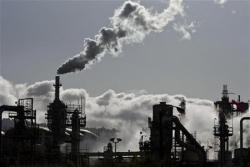 Liquefied natural gas (natural gas cooled to its liquid form for ease of transporting in ships) imports at 39.32 million standard cubic meters per day constituted 25.5 per cent of the total consumption of the fuel in the country in 2011-12.

This share, according to petroleum ministry's latest estimates, will rise to 41 per cent in current fiscal and to 50 per cent in the next.

In 2012-13, domestic natural gas production is estimated to be around 104 mmscmd, down from 114.90 mmscmd in the previous fiscal. In current year, LNG imports will jump to 73 mmscmd and are projected to further rise to 105 mmscmd in 2013-14, equalling the domestic gas production of that year.

In 2014-15, imports at 115 mmscmd will surpass domestic production of 113 mmscmd, the ministry estimates said.

For a nation whose current account deficit is already battered by 79 per cent reliance on imports for meeting oil needs, higher share of LNG in the energy based will not be a good news.

Industry officials said the domestic output has stagnated in absence of remunerative prices.

UK's BP Plc, which partners Reliance Industries in the flagging KG-D6 gas block and other gas discovery areas, recently wrote to Oil Minister M Veerappa Moily saying around 5 trillion cubic feet of discoveries in KG-D6 and NEC-25
block in Mahanadi basin can be developed on price clarity.
The reserves RIL-BP has are more than the remaining resource in state-owned Oil and Natural Gas Corp's fields.
Majority of domestic natural gas is priced at $4.2 per million British thermal unit, which is one-third the price at which LNG is imported, by Petronet LNG Ltd and other firms.
The government has been resisting revising the domestic prices fearing its impact on power tariffs and fertiliser cost even as KG-D6 output plummeted to less than half to 24 mmscd.
Industry officials said world over countries have raised price for domestic produce.
Last week Argentina trippled wellhead price for new natural gas production to $7.50 per mmBtu. The South American nation too imported LNG at up to $15 per mmBtu rate, quite similar to the position in India.
Neighbouring Pakistan too has announced a new exploration policy giving price of $7 for shallow water finds, $8 for deepsea discoveries and $9 for ultra deep exploration.
China too has offered subsidises to energy companies who develop the nation's shale-gas resources, in an effort to jump-start the sector by lowering production costs.