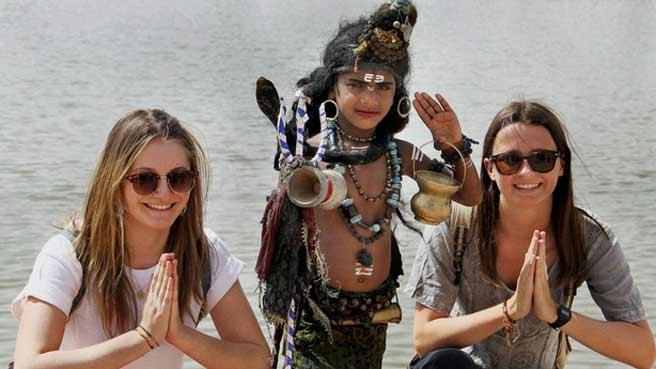 The number of foreign tourists coming to India grew a modest four per cent between January and December 2013, coinciding with women travellers' perception on the country as a safe destination hitting rock bottom.

This is less than the five per cent growth in 2012 and 13 per cent in 2011. Expansion in foreign tourist arrivals worldwide was pegged at around five per cent during the first nine months of 2013, according to data from the World Travel Organisation.

India's total foreign tourist arrivals in 2013 stood at 6.84 million. This pales in comparison with China's 132 million visitors and Singapore's 14 million (end-2012 figures).

In a recent meeting of the India chapter of Pacific Asia Tourism Association with the tourism ministry, tourism secretary Parvez Diwan said that the issue of women's safety had hit tourism.

"There was a lot that was done within their circle of influence, but perhaps it did not filter down to the trade. Particularly on the subject of women's security, some statistics and corresponding facts were an eye opener," he said in the meeting.

Senior executive of a leading leisure travel company said the safety issue had taken a toll on the growth of tourist numbers. According to industry estimates, nearly 30 per cent of the total foreign tourists are women. "This segment is completely skipping India because of so many incidents of rape and molestation that came to light last year,"
he said.
The travel companies were hoping that because of the rupee depreciation, inbound tourism would get a major boost in 2013. However, as challenges persist, most are now pinning their hopes on 2014.
"In the last one year, inbound tourism has not grown to our expectations due to sluggish economic climate in source markets. We believe this will change and Indian tour operators will reap the benefits of this revival. Another factor that will help India is the depreciation of the rupee by 12 per cent, which will boost inbound tourism in the 2014-15 season," said Arup Sen, director (special projects), Cox & Kings.
Foreign exchange earnings from tourism in 2013 grew 2.2 per cent to $18.1 billion, compared to a growth of seven per cent in the previous years.
Meanwhile, travel companies continue to be optimistic on domestic tourism. Domestic tourists showed a growth of 19.9 per cent in 2012 over 2011. "For inbound travel, we are still focused on improving our distribution networks. For domestic, the whole discussion is around growing newer destinations," said Sharat Dhall, president, Yatra.com
India is trying to ease its visa regime and extension of visa on arrival facility to 40 countries. "We should at least start providing e-visas to overcome the bureaucratic hurdles and also extend visa on arrival for more countries," said Subhash Goyal, president of Indian Association of Tour Operators.
Currently, visa on arrival facility is available to 14 countries including New Zealand, Singapore, Luxembourg, Japan, Finland.