India Inc is ready to invest in Russia's pharmaceutical sector and the two governments are working on a joint document to this effect, Commerce and Industry Minister Anand Sharma has said.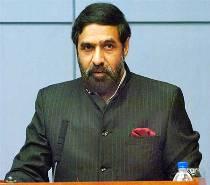 "They are ready to invest in the Russian pharmaceutical industry, including India-Russia joint ventures. Russia is preparing the list of medicines that it needs, and we are waiting for this list," Sharma said in an interview to Russian news agency RIA Novosti.
Sharma, who is on a three-day visit to Russia, said the future protocol on pharmaceutical production will provide a foundation for bilateral cooperation in this sphere.
"Currently, the Indian and the Russian Governments are working on the protocol. The document will prescribe safety standards for medicines. Recently, we have held talks on this issue. We are eager to sign the document as soon as possible," Sharma said.
The Commerce Minister will attend the St. Petersburg International Economic Forum to be formally inaugurated by President Dmitry Medvedev on Friday and hold a number of high profile meetings with the Russian officials with focus on fortifying the economic content of the bilateral strategic partnership.
Sharma said India is interested in Russia's mineral resources, metals and fertilisers, but nano- and bio-technologies are also important.
"We are interested in biotechnologies, nanotechnologies and other sciences such as genomics and bioinformatics, because developments in these spheres will make health care more affordable. We are having discussions with the Russian Academy of Sciences, RUSNANO and the Kurchatov (nuclear research) Institute," Sharma said.
Speaking of energy cooperation, Sharma recalled that ONGC Videsh has made investments in the Sakhalin-1 project and bought Imperial Energy Company, which produces oil in Tomsk region in Siberia and India expected to develop partnership in the Sakhalin-1 and Sakhalin-3 projects.
He said India and Russia could also fruitfully cooperate in the former Soviet republics of Central Asia, where Moscow has a significant influence.
For the first time an India-Russia Business Dialogue has been organised with the framework of St. Petersburg Forum.