Regretting the long delay in conclusion of the Doha Round of WTO talks, India has pressed for revitalising the "stalled" negotiations, saying it is necessary to revive the global economy.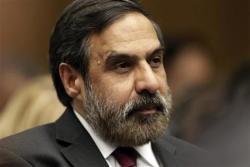 Attributing part of the delay to the inactiveness of the US since last January, India hopes that with the Presidential elections there over, it will "re-engage" in the talks.

"Doha round has been the longest round of negotiations in the history," Commerce and Industry Minister Anand Sharma said, referring to the talks that have been going on for about a decade.

He said India is of the view that the negotiations have to be taken to early conclusion.

Asserting India's commitment to take the process forward, he said "we need to revitalise the stalled Doha round of WTO talks and put in place a rule-based
multilateral regime so that global economy can be revived."
Talking about the necessity to conclude the Doha Round, he underlined that "protectionism will cause further damage" to global economy, "deepen recession and delay recovery."
Sharma, who was talking to journalists on board the Prime Minister's special aircraft while returning from Cambodia last night, hoped the "US will re-engage in the WTO talks" now that Presidential polls in that country as also change of guard in China are over.
There has been no forward movement in the Doha round of talks for the last several years. The mini-ministerial meeting held in Geneva in July, 2008, had been a major setback for the trade negotiations which have remained moribund since then.
Image:
Anand Sharma, Commerce and Industry minister