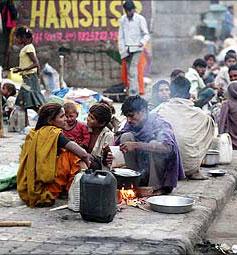 'If we don't want to be the poorest large economy even in 2030, we need to be doing very much more than is being attempted,' says T N Ninan.
Quite a few people have been peering into their rear-view mirrors these last couple of weeks, looking back 25 years to the crisis-driven reform measures of 1991.
There has been much self-congratulation about the seminal changes that were wrought then. That's fine, as the reform measures probably saved India from perdition.
But surely, equal attention should be paid to how desperately needed reform has not happened in all the years since. This is another manifestation of premature triumphalism -- declaring victory and sitting back, when the game has not yet been won.
The truth is that we ask too little of our leaders, and of ourselves.
India's growth rate may now be the fastest among all large economies, but the country still has the largest number of poor people.
Besides, its growth record does not compare with those of other countries during their take-off stages. Whether it is Japan or South Korea, Taiwan or China, or some other countries of East Asia, they all grew their economies at a higher rate for sustained periods of time.
India's record of about 6.5 per cent growth over the past quarter century is creditable, but not comparable.
Nor does India's record on the social sector -- primarily health and education -- match what was achieved by countries in East Asia during their stellar days. Even now, Bangladesh is doing noticeably better.
So, should our leaders of the last quarter century be held to account for their failure to push reform?
And do we recognise that the consequence of this failure is the strategic challenge now posed by China, with an economy five times India's size and a defence budget at least four times as large?
The reforms of 1991 saved India from disaster, but as Vijay Joshi has written in India's Long Road -- The Search for Prosperity, the basis of India's growth is fragile; somewhat contrarily, the country is also capable of faster growth.
But no government and no leader pushes a market-oriented reform agenda, so the likelihood is that we will bumble along.
It has been argued that drastic reform is possible only in a crisis. Perhaps, but if we are looking for crises, how about looking at the crisis of jobs?
Or the crisis with regard to water, and in agriculture, with farming simply unviable for millions of farmers with small holdings?
How about the crisis in banking, or the fact that Air India has used up vastly more taxpayer money than Vijay Mallya's Kingfisher?
Why are these not considered crises -- or something equivalent, and therefore requiring urgent action?
The Narendra Modi government will be at its halfway mark before very long; it is therefore past its booster rocket stage. Three of its five Budgets have been presented, and the only substantive tax reform on the table is the goods and services tax.
Other than that, the government has rolled out its major initiatives (promoting domestic manufacture, boosting investment in physical infrastructure, connecting India digitally, cutting out corruption, promoting financial inclusion, and making life easier for businessmen). All these are well and good. But even if one assumes better-than-usual execution, the Modi package is underwhelming.
Among the many missing elements, there is no serious attempt at administration reform, without which programmes like cleaning the Ganga will fail. Nor is there any intent to fundamentally reform the labour market, without which the jobs crisis cannot be properly addressed.
The public sector has underperforming companies with no strong economic justification, but there is no privatisation programme. Public school education remains a scandal.
The signature programme in health care offers medical insurance, but that is not a solution for (say) widespread stunting. Agricultural productivity needs a sharp push, essential to make farming more viable.
One can go on, but the point should be clear: If we don't want to be the poorest large economy even in 2030, we need to be doing very much more than is being attempted.