Canadian Finance Minister Jim Flaherty announced last week his country was removing India from its General Preferential Tariff, or GPT, regime, which offers lower tariff for exports from India to Canada.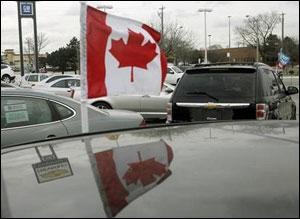 Flaherty, who made the announcement while presenting Canada's annual federal budget in Ottawa, said India was one of the 72 countries to lose its GPT status from January 1, 2015.
The Canadian government says it is revising its GPT list to exclude countries that no longer require preferential tariffs.
Canada implemented its GPT regime in 1974 to offer preferential market access to developing countries to help these increase their export earnings and promote economic development.
Noting the list had not been updated since its introduction, the Canadian government started a review process last year to identify countries that had seen significant shifts in income levels and trade competitiveness. And, therefore, could be graduated from the GPT regime.
The criteria used to determine whether a country could be dropped from the GPT list were classification by the World Bank as a high income or upper middle class income economy for consecutive years, or a share of world exports equal to or greater than one per cent for consecutive years. India accounts for 1.67 per cent of the world's total exports, according to the latest WTO statistics.
Other major countries that will lose their GPT status include fellow BRICS nations, Brazil, Russia, China and South Africa, as well as emerging markets such as Indonesia, South Korea, Israel, Mexico and Argentina. India's neighbours Pakistan, Bangladesh and Sri Lanka are among those which will retain their GPT status beyond 2015.
While Canada's tariff rates vary according to products and the source country, removal from the GPT list is expected to push up tariffs for imports from the excluded countries by up to three per cent. Currently, the GPT offers lower tariffs on 80 per cent of items, excluding some categories of apparel, footwear and agri products.
However, as India and Canada are currently negotiating a Comprehensive Economic Partnership Agreement (CEPA), it is believed exclusion from the GPT list might not have a significant impact on India's exports to Canada, if an agreement is reached in time.
"Both governments have targeted to complete the agreement by the end of 2013. If that's the case, clearly any potential impact of the removal from GPT becomes irrelevant," said Peter Sutherland, incoming president and chief executive officer of the Canada-India Business Council and a former Canadian high commissioner to India.
Naval Bajaj, president of the Indo-Canada Chamber of Commerce, agrees. "Once CEPA is in place, there should not be a problem because it will give us an opportunity to open the doors on many other sectors," he said, adding Indian negotiators were sure to bring up this change in tariff rates during CEPA talks.
Sutherland also pointed out that the Canadian government's review of the GPT regime was conducted publicly over several months and the result would not have come as a surprise to India.
"They would negotiate as part of CEPA tariff rates on various products, and those tariff rates would apply. And so, as a result of those negotiations, it could be that India has more of an advantage in certain areas than it does right now," said Sutherland.
India and Canada have pledged to conclude CEPA talks by the end of this year, and observers believe talks are on schedule to meet the deadline.
Bilateral trade currently stands at around $5 billion, and the two governments are banking on CEPA to push that figure to $15 billion by 2015. Canada's budget last week reiterated trade with India was a priority, stating, "The trade agenda is now focused on achieving major new free trade deals with the EU, India and Japan."