Policy constraints may prevent many of the global retail giants from reaching their full potential.There are too many restrictions right now in the sector and policy makers lack clarity.
Illustration: Uttam Ghosh/Rediff.com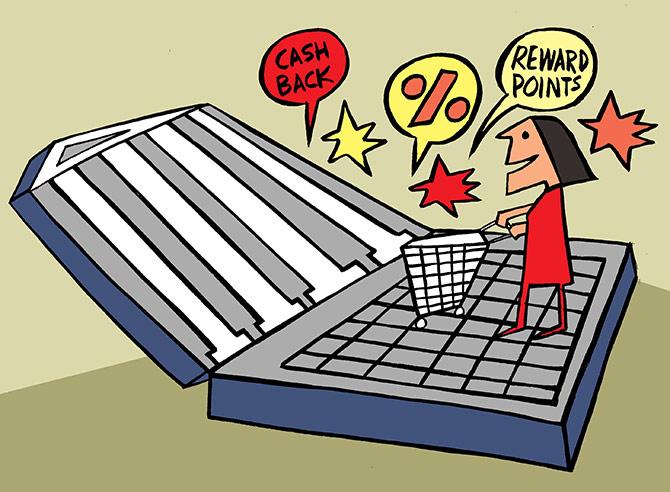 It's not the end of the year yet and may therefore be too early to give a verdict.
But 2018 has seen enough disruption in the retail space already to possibly determine the landscape of the sector in the months and years to come.
If Jack Ma is hanging up his boots at Chinese e-commerce major Alibaba in a surprise transition, two American giants, Walmart and Amazon, are scripting changes in Indian retail like never before.
Adding suspense to the game are players like Mukesh Ambani's Reliance Industries, which is preparing to roll out e-commerce with the power of Jio, and others such as food delivery startup Swiggy, which is planning several dark pods to host grocery stores and pharmacies.
Indeed, Walmart's acquisition of Flipkart, after much boardroom twists and turns played out across continents, stands out as a real game-changer.
Not just because the largest retail chain of the word was betting big on India, but also because the deal pegged the value of India's decade-old startup at around $ 20 billion - an unthinkable number so far.
Doug McMillon-led Walmart struck the deal for $ 16 billion to buy 77 per cent in Flipkart.
It also meant Flipkart's star founder Sachin Bansal stepped down hurt but richer by at least $ 1 billion.
While the retail piece was still building up around the Walmart-Flipkart story and the tax liabilities that may follow, Amazon was readying its ammunition to take on its American rival Walmart as well as the one it has fought in Bengaluru ever since it entered India - Flipkart.
Amazon recently announced its vernacular initiative to go deeper into India in the languages that the country understands.
The idea being online shopping or buying stuff on smartphone was not just an elite activity anymore but was something that masses aspire for.
Amazon, in other words, wants to go where nobody has gone before.
Along with the language war-chest, the Seattle-based e-commerce major is seriously exploring tie-ups to get a foothold in physical retail.
From big boys such as Kishore Biyani's Future and Aditya Birla group's More to thousands of corner stores (kirana outlets), it's looking to cover all ends.
And, so far the India game plan for the Jeff Bezos-led company has been one of "open cheque'', having already invested $ 5 billion with promise to spend as much as it takes.
Besides Walmart and Amazon, there is Google, which too is quietly chalking out its retail play in India.
This Diwali may be a turning point when retail will see fireworks of a different kind, with Google, Amazon, and Walmart wanting to spice it up.
Harsha Razdan, who heads KPMG India's consumer markets and internet business, believes it's the big four—Amazon, Walmart, Google and Alibaba - which will play a strong role in retail through a never-before online-offline focus.
"As companies seek to play a bigger role in an emerging market as large as India, it seems logical to see an increase in M&A activity and strategic partnerships,'' says Razdan.
Broadly, three investment themes are impacting the consumer and retail landscape, according to him.
That is, customers are demanding a seamless omni-channel experience across physical and digital (online) platforms; Indian retail is poised to grow significantly, thus creating several opportunities for players to expand their presence rapidly; and large global players, who play in either online or brick and mortar formats, are actively trying to create a strong footprint in the early stages of a rapidly growing economy like India.
While all this is happening, traditional physical retail is not watching silently on the sideline.
Amazon India is in some sort of a pact with the Future Group to invest at least $ 600 million for up to 15 per cent stake in the company.
In fact, Biyani seems to have a line-up of suitors - from Amazon and Alibaba to Google and Paytm.
Meanwhile, RIL's retail business, which has crossed the $ 10-billion sales mark, could hold the key to unravelling Indian retail's potential.
But there's a flipside to the sunny story that's unfolding in retail.
According to Arvind Singhal, chairman and managing director of Technopak, policy constraints may prevent many of the global giants from reaching their full potential.
There are too many restrictions right now in the sector and policy makers lack clarity, he says.
After much back and forth on FDI and inventory versus marketplace rules, the committee on e-commerce policy is set to meet again on Thursday, to review the draft all over again.
The policy, if framed, would be an indicator ahead of many upcoming state polls and 2019 Lok Sabha election.
However, as Singhal points out that there will be action from unexpected quarters.
Swiggy's plan to open 50 dark pods is a case in point, he says.
That's a category (food tech) opening up in a big way, according to Singhal.
Already, food and grocery makes up for the single largest spending category (around 45 per cent of the whole).
To top that, there's more to cheer. Swedish major Ikea has finally set up shop in India - the first outlet was opened recently in Telangana.
Indicating interest in India, South Korean electronics major Samsung set up its largest experience centre in the world in Bengaluru.
Why wouldn't multinationals invest in India, analysts argue. If not here, where will they go to, they ask.
The confidence flows from numbers as India has once again established itself as the fastest growing country at a first-quarter GDP growth rate of 8.2 per cent, surpassing China.