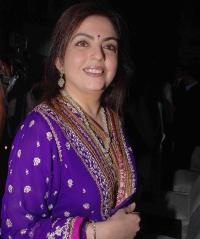 When Nita Ambani joins the board of Reliance Industries on June 18, she will be among a dozen members of promoter families taking up board positions in recent months.

Women from promoter families who have become directors since January this year include Sarala Birla (Century Textiles, Century Enka), Nawaz Gautam Singhania (Raymond Group), Bina Modi (Godfrey Phillips), Saroj Bhartia (Jindal Drilling & Industries) and Deepshikha Khaitan (Cera Sanitaryware).

As corporate India ramps up its search for woman directors to meet a rule that requires women's participation on the boards of listed and some private companies, the promoter families have been a key catchment source for new directors.

However, some of the recent marquee appointees have been associated with various ventures of respective corporate groups.

With the introduction of a new companies law, 85 companies listed on the National Stock Exchange signed on 80 women directors between January and May this year, according to research by Indianboards.com, a joint initiative of NSE and Prime Database.

Around 50 of these appointments were as independent directors.

In the same period last year, 40 women were appointed directors.

Indianboards.com found that two-thirds of the 1,500-odd listed companies on NSE did not have any woman member on their boards in March 2014.

A Bloomberg study said nearly half the top-100 companies listed on BSE did not have woman directors.

The Companies Act, 2013, gives companies time till April 1, 2015, to fill up these board positions. But the listing agreement of the Securities & Exchange Board of India has brought the deadline forward for listed companies to October 1 this year.

Though human resource (HR) heads complain of inadequate availability of board-level talent and seek more time to fill up such vacancies, experts feel tapping the family for directors is a short-term measure.

"Women from promoter families, unless active in business or suitable, should be avoided, for reasons of governance and other practical considerations," said a recent note by accounting firm Grant Thornton advising clients on the issue.

"Indian boards should give adequate weight to merit.

A well-rounded board brings strategic value to any business" says Pranav Haldea, managing director, Prime Database. Shriram Subramanian, founder, Ingovern, an independent proxy advisory firm, says these are early days for corporate India's efforts to bring gender diversity into boardrooms.

"Indian boards could also use this opportunity to bring cultural diversity by selecting woman professionals from other countries," suggests Subramanian.

The new companies law has raised the bar on the liabilities of directors.

Pallavi Shroff, senior partner at law firm Amarchand Mangaldas, says one needs due diligence about the company and its corporate culture before accepting a position on its board. Shroff, who sits on the boards of eight companies, says she and many of her woman lawyer colleagues regularly get calls from headhunters exploring their interest in board positions.

"In most cases, I refuse politely" she says.

Citing paucity of talent, industry body Confederation of Indian Industry said in a recent note to the corporate affairs ministry that the government should dispense with the requirement for woman director on boards of unlisted companies.

But HR consultants feel companies need to come out with long-term strategies to facilitate the path of talented woman employees to the boardrooms. This will also help improve representation of women in top management.

India was one of the last three among Asian nations in representation of women on boards or executive positions, said a Mckinsey & Co report.

WHO NEEDS TO HAVE WOMAN DIRECTORS ON BOARD?
All listed companies (by October 1, 2014)
Public firms with paid-up capital of Rs 100 crore (Rs 1 billion) or more
Companies with turnover of Rs 300 crore (Rs 3 billion) or more (by April 1, 2015)
Image: Nita Ambani