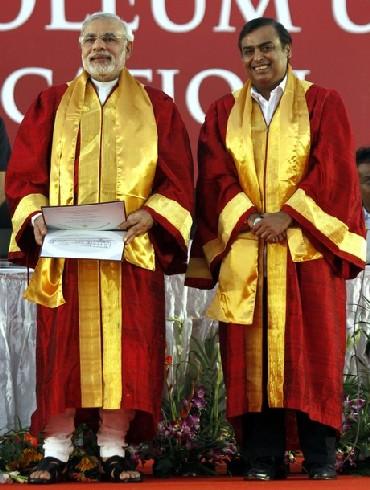 Hailing the clear mandate given by voters to the BJP-led NDA, leading lights of corporate India hoped incoming government would boost economic growth and create jobs to herald a "golden era of change".
Hinduja Group Chairman Srichand Hinduja described Narendra Modi's massive mandate as a vote for stability that will put India back on the path of high growth.
"Modi has a proven track-record of governance in Gujarat and people have reposed enormous faith in his leadership. I have little doubt that he will fulfil the aspirations of millions of people," Hinduja said.
Aditya Birla Group Chairman Kumar Mangalam Birla said, "This is vote for stability, progress, and good governance."
"The most important thing the new government must do is to accelerate economic growth. So, reining in of inflation, fiscal deficit and unemployment are of paramount importance as is stoking of an environment that is conducive to a revival of investor optimism," Birla told PTI.
HDFC vice-chairman and MD Keki Mistry said the decisive mandate can help usher decisive reforms in a slew of areas like taxation, subsidies, improving investor confidence and resolving the black money issues among others.
"The first thing that the new government should do is to bring in tax-friendly laws. We cannot have more Vodafone-like issues. The new government must find a solution to all the Vodafone like retro-tax issues. It also should bring down the effective tax rates but improve tax compliance," Mistry told PTI.
TCS CEO N Chandrasekaran said: "Upgrading the country's infrastructure through investment will help boost growth rates as well as give a fillip to many industries including the IT industry, which can tap the talent available in Tier II and Tier III cities and create sustainable jobs".
United Breweries Group Chairman Vijay Mallya tweeted: "Finally looking forward to a strong and stable Narendra Modi led BJP Government with an absolute majority and no coalition pressures".
Biocon CMD Kiran Mazumdar Shaw on micro-blogging site Twitter said: "Modi has outperformed all electoral forecasts n (and) he will outperform as India's 14th Prime Minister. We are now entering golden era of change".
Apollo Hospitals Group Chairman Prathap C Reddy said that the new government needs to drastically increase public spending on health, create a roadmap for universal health coverage, corporatise medical education and take decisive steps to remove the barriers of accessibility, cost and quality that continue to plague India's healthcare system.
Hero MotoCorp Joint MD Sunil Kant Munjal said there is a need for the automotive industry to continue to get support (in the form of excise duty cuts to continue) for a while because this has a big multiplier effect on the economy.
ICICI Bank's head Chanda Kochhar said that the elections have delivered a clear mandate for governance and growth, which should be leveraged for decisive action that will rebuild confidence in the economy.
"The immediate priorities would be to resolve issues in existing projects, clearing pending receivables to the corporate sector from government agencies, resolve the retrospective taxation issue and bring clarity around tax laws, begin the implementation of GST, and take steps to contain inflation."
Industry body CII said that the outcome of the General Elections reaffirms India's vibrant and dynamic democracy and would greatly help to revive growth and investor sentiments.
"That (FDI in multi-brand retail) is something that we feel is desirable for India. We will take it up with the government and articulate and share our views," CII President Ajay Shriram said.
Highlighting expectations of auto sector's, Maruti Suzuki India Chairman R C Bhargava said: "I think at the moment the industry is in such shape that removing that concession (excise duty cut) would be very negative, so I hope that will continue".

Mahindra & Mahindra CMD Anand Mahindra tweeted: "Congratulations Shri Modi, for your remarkable rise. India's impatience to rise has put you on top. May you fulfill these great expectations". Raymond Group CMD Gautam Singhania tweeted: "Congratulations to Mr Narendra Modi. Finally, it really is AbkiBaarModiSarkaar".
Fortis Healthcare Executive Chairman Malvinder Mohan Singh said that clear majority will allow government take difficult but right decisions required to unleash growth and move the country and the economy into a higher orbit.
Expressing concerns on healthcare sector, Medanta-Medicity CMD Naresh Trehan said: "My only request to Mr Modi was please give us a decent knowlegeable health minister because so far we have been relegated to the worst, besides, atleast 3 per cent (of the GDP should be spent on the healthcare sector".
Ficci President Sidharth Birla said: "We hope that this mandate will help the leadership restore much needed investor confidence, attract higher investments and generate employment, especially in the manufacturing sector."
Industry body Assocham said that a majority mandate gives hope of a stable government, paving the way for bold and decisive policy reforms.
"This, complemented by the animal spirit of Indian enterprise, can herald a 10 per cent growth of the economy in the next 18-24 months," Assocham President Rana Kapoor said.
On similar lines, GVK Reddy, Founder & CMD of GVK Power & Infrastructure Ltd said, "We are confident that with a strong mandate, the new government will do well and will implement economic policies that benefit the country's people and its industry."
Terming the results as a "dawn of new hope for all Indians", CMD of Cadilla Pharmaceuticals Rajiv Modi said: "We wish that the new government takes the India growth story further and works towards making the economy more vibrant".
CBRE India CMD Anshuman Magazine said implementation of infrastructure projects with a sense of urgency should be the top priority of the government.
JK Tyre & Industries Chairman & Managing Director RP Singhania that the sharp economic slowdown in India over the last few years has seriously eroded India's competitiveness.

It is therefore imperative that investments are fast tracked, especially in the infrastructure domain. Tata Steel South East Asia MD T V Narendran said: "We look forward to clarity on policy going forward and a commitment to strong action that will help the steel and mining industry to play its part with the government in enabling India's overall all-round growth".
Future Group CEO Kishore Biyani said with the NDA getting clear majority he expects the government to take decisions that lead to prosperity of the nation.
"New government brings in new hope. We expect the new government to deliver (on its promises)," Biyani said.
ITC Chairman Y C Deveshwar said that a comprehensive and decisive mandate such as this augurs well for spearheading a new paradigm of development with social equity. Stability together with progressive policies will bring in optimism to encourage investments and spur growth.
Videocon Director and Consumer Electronics and Appliances Manufacturers Association (CEAMA) President Anirudh Dhoot said the consumer durable industry looks up to the new government in framing guidelines and initiatives that will pave the way for growth, advance technology and innovation.
PHD Chamber of Commerce President Sharad Jaipuria said the manufacturing sector reforms should be at the top of the agenda of the new government to enhance its growth and productivity to generate millions of employment opportunities in the economy.
M Rafeeque Ahmed, president of exporters' body FIEO, said that landslide victory and mandate given to Modi should result in proactive and stable policy environment.
"The new government will have to bring back manufacturing on track to sustain export and economy," he said. EEPC India Chairman Anupam Shah said: "We expect that Modi Government will be able to take some bold decisions regarding labour reforms which will ultimately benefit the Indian workforce and create new employment."
Mohit Goel, CEO, Omaxe Limited said that with the election results out and the promise of a stable government a reality, the scenario will improve for the real estate sector.
Chairman of the US India Political Action Committee Sanjay Puri said: "On behalf of the Indian American community and friends of India in the US, we extend warm congratulations to Narendra Modi for leading the BJP to a spectacular victory in these historic elections in India".
"I would expect the new government to address the issues India faces including boosting economic growth, tackling corruption and fostering inclusive development," Chairman of UAE Exchange B R Shetty said.
"The results are an indication of the prevailing sentiments in the country. All eyes are on Modi now for delivering a new India," said Rabindra Jhunjhunwala, Partner, Khaitan & Co.