India's top listed companies reported their best-ever quarterly net profit of Rs 2.39 trillion in the September quarter of FY22, up 46.4 per cent year-on-year.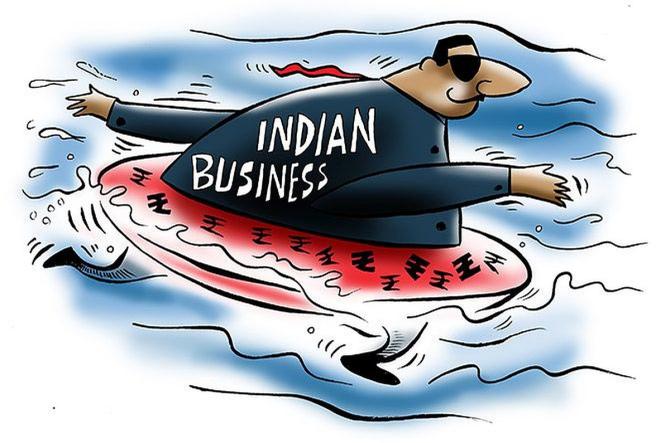 The earnings were driven by a big surge in the profitability of banks, non-banking financial companies & insurance (BFSI), oil & gas, and metal & mining firms.
The combined net profit of these three cyclical sectors were up 87 per cent YoY to a record high of Rs 1.53 trillion, up from Rs 82,000 crore a year ago and Rs 1.08 trillion in Q1FY22.
The companies in these three sectors together accounted for 94 per cent of the incremental growth in the overall corporate profits in Q2FY22 over Q1FY21.
In contrast, the combined earnings of the rest of India Inc were up only 5.3 per cent YoY in the Q2FY22 to around Rs 85,300 crore, down nearly 10 per cent from all-time high earnings recorded in Q3FY21.
For the first time in nearly a decade, the top three profitable companies were commodity and energy producers.
Oil & Natural Gas Corporation topped the chart with a net profit of Rs 18,348 crore, up 565 per cent YoY and it accounted for 21 per cent of the entire growth in corporate earnings in the September quarter.
It was followed by Reliance Industries with net profit of Rs 13,680 crore (up 43 per cent YoY) and Tata Steel at Rs 11,918 crore (up 661 per cent YoY).
Other big earners in the second quarter include JSW Steel (net profit up 350 per cent YoY), State Bank of India (up 69 per cent), Steel Authority of India (up 994 per cent), Vedanta (up 451 per cent), and Jindal Steel (up 209 per cent). At the other end of the spectrum were Tata Motors, Lupin, Interglobe Aviation, Adani Power, Maruti Suzuki, and Hero MotoCorp among others.
The three most profitable sectors in the second quarter were BSFI with a combined net profit of Rs 64,250 crore (up 43 per cent YoY), oil & gas at Rs 47,750 crore (up 80 per cent YoY) and metals & mining at Rs 41,390 crore (up 298 per cent YoY).
In all, nearly two-thirds of the combined net profit of 2,616 companies in the Business Standard sample in Q2FY22 was accounted for by these 603 companies belonging to the three cyclical sectors, up from 50 per cent a year ago and 60 per cent in Q1FY22.
This is much higher than a 53 per cent share in India Inc combined net sales in Q2FY22.
Companies in most sectors, with the exception of BFSI, also reported double-digit growth in revenue from a combination of higher volume and price realisation.
The combined net sales of the 2,616 companies that have declared their results for the July-September 2021 period was up 26.5 per cent YoY to around Rs 23.8 trillion up from around Rs 18.8 trillion a year ago and Rs 21.2 trillion in Q1FY22.
Like earnings, topline growth was led by commodities producers and largely reflected higher prices for products in the second quarter.
Combined net sales of oil & gas companies, including Reliance Industries, were up 57.4 per cent YoY in Q2FY22 to Rs 5.53 trillion.
The combined net sales of metals & mining companies, including Tata Steel, Coal India, Hindalco, and JSW Steel, were up 52.3 per cent YoY to Rs 2.51 trillion in Q2FY22.
Companies in the non-cyclical sector undergrew their cyclical peers and reported 21.3 per cent YoY growth in combined net sales in Q2FY22.
But companies across sectors reported a slowdown in revenue growth in Q2FY22 over Q1FY22, largely due to a base effect.
The numbers suggest that the gains for commodity and energy companies came at the cost of general manufacturers and consumer goods companies, most of which reported a sharp YoY decline in operating margins and net profits.
The core-operating margin for consumer goods manufacturers, including FMCG firms, automakers, and consumer durable companies, was down nearly 100 basis points YoY, while the raw material-to-net sales ratio was up nearly 400 basis points YoY.
Part of the cost pressure was, however, compensated by higher net sales -- up 16.2 per cent YoY -- and a decline in interest cost that was down 7.1 per cent YoY in the second quarter.
Gains for metals & mining and oil & gas producers from higher prices more than offset the losses to the user industries from higher input prices.
The result was a record high earnings for companies ex- BFSI.
Analysts now expect moderation in the earnings of commodity producers and an improvement in the margins of user industries, such as FMCG, automotive, and consumer durable.
Its impact on overall corporate earnings remains ambiguous, given the uncertainty regarding the trajectory of inflation and interest rates.
A sharp decline in interest rate has been central to a surge in earnings in the BFSI space and a material rise in interest rate could adversely hit the overall corporate earnings.