In an effort to ensure orderly migration to and fro, India and European Union are working on signing a labour mobility pact which envisages exchange of information relating diverse fields of employment.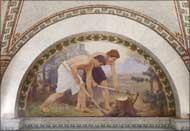 The decision to go for such a pact was taken at a meeting between European Union Foreign Affairs Minister Baroness Catherine Asthon and Overseas Indian Affairs Minister Vayalar Ravi in New Delhi on Wednesday.
Officials present in the meeting said both the sides basically discussed about signing a 'Labour Mobility Partnership Agreement' to facilitate "legal" and "orderly migration" of the workforce from India to European Countries and vice versa.
The LMPA provides for cooperation in areas of labour market expansion, employment facilitation, orderly migration, exchange of information and cooperation in introducing best practices.
"We discussed issues of mutual interests. The focus was mainly on migration and movement of people. The dialogue went off very well," Ravi said after the meeting.
Seeking greater two-way engagement, Asthon, on her part, said both the sides discussed ways and means to improve opportunities for migrant workers in India as well as Europe.
European Union is India's major partner in the area of trade and investment. Both the sides are now negotiating a free trade agreement.
Asthon said the 27-nation economic bloc was interested in enhancing ties with India in new technology sector.
"We are particularly focusing on what's happening in places like Bangalore and the opportunities in new technology industry and opportunities for Indians in Europe," she said.
India has already signed LMPAs with several Gulf countries.
Officials of the Ministry of Overseas Indian Affairs said one of the priorities of the government is to diversify the overseas destination base for Indian workers and secure labour markets for them in the emerging job opportunities across the globe.
India has signed LMPAs last year with Malaysia and Bahrain to improve recruitment, employment conditions of workers and promote legal migration.