This would make India the world's second-biggest nuclear energy market after China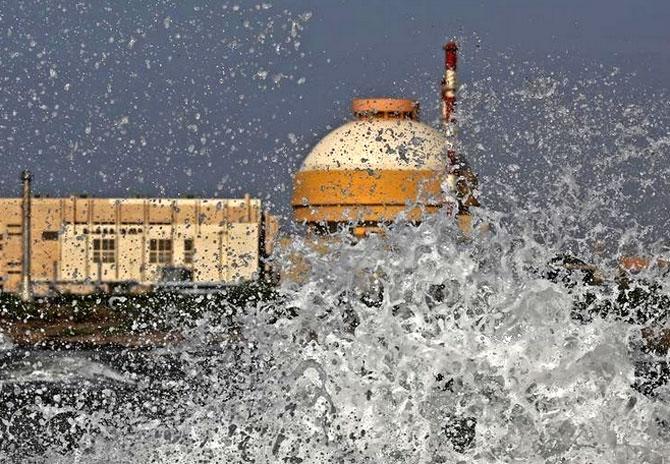 Sea waves hit the rocks as Kudankulam nuclear power project plant is seen in the background in Tamil Nadu. Photograph: Adnan Abidi/Reuters
India expects to seal a contract with Westinghouse Electric Co LLC to build six nuclear reactors in the first half of next year, a senior government official said, in a sign its $150 billion dollar nuclear power programme is getting off the ground.
The proposed power plant in Prime Minister Narendra Modi's home state of Gujarat will accelerate India's plans to build roughly 60 reactors, which would make it the world's second-biggest nuclear energy market after China.
India wants to dramatically increase its nuclear capacity to 63,000 megawatts (MW) by 2032, from 5,780 MW, as part of a broader push to move away from fossil fuels, cut greenhouse gas emissions and avoid the dangerous effects of climate change.
The United States signed a pact with India in 2008, opening the way for nuclear commerce that had previously been stymied due to New Delhi's nuclear weapons programme and shunning of the global Non-Proliferation Treaty (NPT).
But hopes that reactor makers would get billions of dollars of new business evaporated after India adopted a law in 2010 giving the state-run operator Nuclear Power Corp of India Ltd (NPCIL) the right to seek damages from suppliers in the event of an accident.
Indian officials have been trying to assuage suppliers' concerns, including by setting up an insurance pool with a liability cap of Rs 1,500 crore ($226.16 million).
A final hurdle – ratification of the International Atomic Energy Agency's Convention on Supplementary Compensation for Nuclear Damage (CSC) – is expected within weeks, the government official said.
The CSC requires signatories to shift liability to the operator and offers access to relief funds.
In a statement, Westinghouse said it expected India would move towards a framework that satisfies the CSC and channels accident liability exclusively to the operator. The statement made no reference to ongoing negotiations.
Shares of Westinghouse's parent, Toshiba Corp, jumped as much as 3.3 percent on Thursday after the news, before slipping back. A Toshiba spokesman declined to comment on the report, but noted that Westinghouse has been confident of winning orders from India.
A deal with Westinghouse could also put pressure on General Electric Co, whose nuclear energy venture with Hitachi was offered a site six years ago to build reactors.
GE has still not decided whether it would move ahead with the plan, the official said, adding that India was keen for a decision from the company soon.
GE Hitachi Nuclear Energy said it had strong interest in India, and that the CSC would be "a sustainable solution to concerns about India's existing domestic nuclear liability law".
India's plans for ramping up nuclear capacity have in the past fallen far short of targets and industry officials say that the aim to lift the share of nuclear power to a quarter of its energy mix, from barely 3 per cent now, is very ambitious.
No more technical hurdles
Later this week, India is expected to offer Russia a site in Andhra Pradesh to build six reactors, on top of the six it is already expected to build in neighbouring Tamil Nadu, Indian and Russian officials have said.
Separately, India expects Japan, which supplies components used in most reactors, to ratify an agreement some time in the second quarter of 2016 to support its nuclear programme, another senior Indian government source said.
"There are no more technical hurdles in the development of nuclear energy for peaceful purposes," the source said.
French nuclear company Areva, which uses Japanese components, also has a deal to build six reactors in India, although restructuring within that company was likely to delay construction until 2017, the first official said.
French utility EDF agreed earlier this year to buy a majority stake in Areva's reactor business. Areva has been in price negotiations with NPCIL for several months now, officials at the Indian operator told Reuters in November.
Areva did not immediately respond to a request for comment.
Westinghouse deal
Negotiators from Westinghouse and Indian operator NPCIL have held several rounds of talks on the nuclear plant in Mithi Virdi, the government official said.
NPCIL declined to comment on the negotiations. Union Minister for Atomic Energy Jitendra Singh told parliament this month that talks were going on with French and US firms to arrive at project proposals. He offered no details.
But the government source said Westinghouse and NPCIL were negotiating all six reactors in one go, instead of an earlier plan to strike deals for two at a time.
Construction of the roughly 1,100 MW reactors could begin later in 2016, the official, who is close to the negotiations, added.
The idea was to allow the Americans and the French, India's two close partners, to catch up with the Russians in its nuclear sector, the official said.
"This is a train that is moving soon," the official said.
Additional reporting by Tommy Wilkes and Doug Busvine in New Delhi, and Lewis Krauskopf in New York