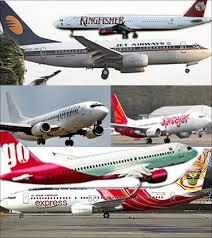 India's aviation sector is among the world's fastest growing and as per estimates is set to witness 6.6 per cent annual compound growth over the next five years, according to a report.

The Indian government's decision in 2012 to allow foreign direct investment in civil-aviation sector up to 49 per cent has enthused new airlines to launch their operations and capitalise on country's 1.2 billion population, a pre-statement to the Global Aerospace Summit said.

"India has recently urged the United Arab Emirates to direct more foreign investment into the country, especially in sectors such as transport and aviation.

"Industry giant Airbus predicts that the global demand for commercial aircraft will reach $4.4 trillion over the next 20 years, with India and China driving a significant portion of that demand," it said.

Hosted by Mubadala in Abu Dhabi, the Summit, to be held from April 7-8 will witness increased participation from Brazil Russia India China South Africa countries.

This year's meet is attracting top executives from airlines, aircraft manufacturers, satellite companies, aerospace associations and suppliers from established and emerging worldwide markets.

It will focus on the challenges of driving industrialisation and growth while adapting to global socio-economic
change, event organisers said.
"This year we expect some 3.3 billion passengers to board planes.
"That's nearly double the 1.7 billion air travellers in 2000.
"It is clear that people want and need to fly -- to explore new places, do business or connect with family and friends.
Connectivity is critical to the global economy-driving $2.2 trillion in economic activity and supporting 57 million jobs," DG & CEO of the International Air Transport Association Tony Tyler said.
According to IATA reports, the total number of airline passengers will rise to 3.91 billion by 2017, with routes within or connected to China the single largest growth driver.
With this growing demand for air travel, the aviation powerhouse is investing in further boosting its infrastructure to realise its full growth potential.
The world's second largest general aviation fleet, Brazil is another promising market for the industry.
"For airlines, cost efficient infrastructure, the capacity to grow and reasonable taxation are among the top priorities.
"Understanding that aviation is a catalyst for growth creates a common interest between governments and the industry.
"And the best way to build the future is with strong partnerships among all sectors in the value chain and with governments," he said.