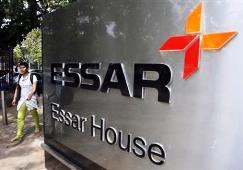 The Ruia family's efforts to make London-listed Essar Energy private received a severe blow on Monday, with a five-member independent board committee rejecting the move.

The committee said the move 'clearly undervalued the company and its long-term growth prospects'.

The decision of the committee, comprising five members whom the company's board considers free from conflicts of interest with regard to the proposal, is seen as a shot in the arm for minority shareholders, who had termed the possible offer by Essar Global Funds Ltd 'opportunistic'.

EGFL has the option of revising the price in its final offer by March 14.

Essar Energy had last week said EGFL had made a possible offer of 70 pence a share for the 22 per cent stake it did not already own in the company.

The Ruia brothers, who hold a controlling stake in Essar Energy, are beneficiaries of EGFL.

Essar Energy's assets include the Stanlow oil refinery in Northwest England, besides power stations and oil refining facilities in India.

It raised 1.3 billion pounds by listing its shares on the London Stock Exchange (LSE) at 420 pence apiece in 2010.

Since then, the stock has fallen significantly. It closed at 64.55 pence on LSE on Friday.

"The independent committee is unanimous in its conclusion and is fully committed to safeguarding the interests of minority shareholders," Philip Aiken, the committee's chairman,
said in a statement.
The company said it had also appointed Greenhill & Co to act as an independent financial advisor, alongside JPMorgan Cazenove.
Minority investors like Henderson Global Investors and Standard Life were vocal about their displeasure with the proposed offer, which, they felt, undervalued the company.
"Essar Global's potential attempt to buy out the minority shareholders in Essar Energy, capitalising on a technically depressed share price, is a calculated attempt to deprive minority shareholders of the substantial future upside in Essar Energy's valuation," David Cumming, head of equities, Standard Life Investments, said in a statement.
"We look to the Essar Energy board to protect minority interests and not break commitments outlined to investors.
"This potential bid is an example of cynical opportunism and should not be allowed to proceed," Cumming said in the statement issued last week.
Essar Energy, following its listing, has faced many challenges in its Indian operations, especially with a 'policy paralysis' bringing down economic growth to a decade's low of below five per cent.
The latest challenge came in January, when the Union coal ministry threatened to cancel the mining rights owned by numerous industrial groups.
This put fresh concerns for the company's already mothballed power plants.
The minority shareholders, however, feel that the worst is behind the company and, if they sell at the current offer price, they might lose on an upside in valuation.