It's seen as a signal that he wants to engage with India Inc at a time when the economy has started looking up.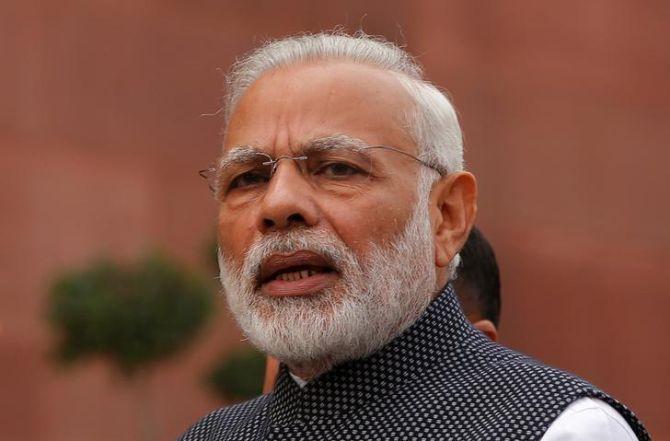 Prime Minister Narendra Modi will for the first time attend an annual general meeting (AGM) of a leading business chamber, possibly sending out a signal that he wants to engage with India Inc at a time when the economy has started looking up.
In a first for him as prime minister, Modi is slated to deliver the inaugural address at the AGM of the Federation of Indian Chambers of Commerce and Industry (Ficci) on December 13, before flying to Gujarat to cast his vote on December 14.
While it has been an established trend for PMs (including Rajiv Gandhi, Narasimha Rao, Atal Bihari Vajpayee, and Manmohan Singh) to inaugurate AGMs of business chambers and also interact with corporate bigwigs on various platforms, Modi had kept himself at a distance from India Inc, especially the lobby groups.
The only other business chamber meet that Modi addressed as PM was at the Dalit Indian Chamber of Commerce and Industry in December 2015, when he had stressed the goal of financial inclusion of the National Democratic Alliance government.
Ficci, the 90-year-old business chamber, will announce its new president at the end of the two-day AGM in New Delhi on December 13 and 14.
According to sources, Rashesh Shah, chairman and chief executive officer of the Edelweiss group, a diversified financial services conglomerate, will replace Pankaj Patel as Ficci president.
Currently, Shah is senior vice-president, while Malvinder Mohan Singh is vice-president at Ficci.
Ficci did not comment.
Modi has been seen as closely associated with the promotion of entrepreneurship ever since he took over as PM in May 2014.
Whether it's the Startup India event in the capital attracting marquee investors and entrepreneurs from India as well as overseas around two years ago, or the recent Global Entrepreneurship Summit (GES) in Hyderabad, with Ivanka Trump leading the US delegation, the PM's focus has been clearly on new businesses, especially with a tech focus.
Events around signature schemes such as Make in India, however, have been treated differently, with top CEOs queuing up to listen to the PM.
Also, Modi has met the chief executives of multinationals, from Microsoft to Facebook, Google to Apple, more freely, both in India and abroad.
A source pointed out that a departure in the PM's approach was noticed at an event in New Delhi in August.
Champions of Change, organised by the NITI Aayog at Pravasi Bharatiya Kendra in New Delhi, saw an auditorium filled with hundreds of CEOs, mostly young ones. Even business chambers are believed to have sent their representatives in big numbers to that event.
"After demonetisation and the roll-out of the goods and services tax (GST) in quick succession, the government may have wanted to send out a signal that it was not against businesses,'' another source said.
At the Ficci AGM, four state finance ministers - Amit Mitra (West Bengal), Sushil Kumar Modi (Bihar), Haseeb Drabu (Jammu and Kashmir), and Thomas Isaac (Kerala) - who were at the centre of GST roll-out, are expected to address a session, too.
Even before Modi decided to mingle with India Inc, BJP president Amit Shah had made a beginning.
In September, Shah turned the party's attention to the business community by engaging with the national executive of Ficci.
Shah had then asked the association to reinvent itself in a new economy, while asking industry to invest.
Photograph: Adnan Abidi/Reuters