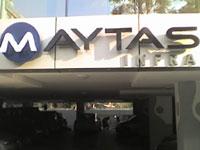 Sheikh Mohammed bin Ladin was on way to attend his 23rd wedding when his plane crashed. The sheikh, who was 59, died in the crash. But the father of Osama bin Laden, world's most wanted terrorist, left behind much more than 22 wives and 54 children: A business empire that earned him the sobriquet of 'the wealthiest non-royal person in the Saudi kingdom'.
Osama, who was the sheikh's 17th child, was disowned by the family in the mid-1990s.
Mohammed bin Ladin started as a construction contractor in 1931. As years rolled by, his Saudi Binladin Group (SBG) expanded activities and diversified.
Today, SBG is the largest contractor, developer and diversified EPC (engineering, procurement and construction) conglomerate in the Saudi kingdom. It has six divisions: Railways, road-highway infrastructure and tunnels, airports, townships, trading and electro-mechanical engineering.
Last week, SBG joined India's leading infrastructure and finance company, IL&FS, to become a co-promoter of Maytas Infrastructure.
Win-win
"It's a win-win for both," said Talmiz Ahmad, India's ambassador to Saudi Arabia. "This new association is the fulcrum of the Indo-Saudi business association that both countries have talked about in the recent Riyadh Declaration."
Within 90 days of their first meeting with Shahzaad Dalal, IL&FS' pointman in Dubai, SBG and IL&FS agreed to do business. Maytas became the medium. For IL&FS, looking at equity partners to pump in capital and improve the net worth of Maytas, induction of a strategic player, such as SBG, made more sense than tapping financial investors via a qualified institutional placement, as planned initially.
SBG would not just bring cash, but also global expertise, an order book and exposure. SBG had been scouting for opportunities in India for the past one and a half years.
However, in the construction space, where businesses are mostly family-run, they found it tough to get a sizable partner with professional management and a proven track record, said a key lender of Maytas Infra. "In IL&FS, they saw a perfect answer. After all, they are the big daddies of Indian infrastructure."
The aim is to take Maytas into the big league. That's where a global strategy will come in handy. It will rest on three pillars: India, Saudi Arabia and third-country projects.
For Saudi Arabia, a separate joint venture will be formed, where Maytas will have 55 per cent equity, with SBG having the rest.
"There is a tremendous EPC opportunity in the kingdom. We would obviously like to play an active role there," said Milind Patel, deputy managing director, IL&FS Financial Services.
Openings
SBG is one of the four shortlisted bidders for the $2.4-billion Jeddah Airport City expansion project. If selected, some of the EPC work may be sub-contracted to this new joint venture.
"The Saudis are building 16 private universities and six knowledge centres… The scope for Indian companies is limitless. Maytas will be in a good position to exploit these opportunities, as part of their new relationship with SBG," said Ahmad. Add the prospects of contracts in the Makkah-Madinah High Speed Railway System, the six-lane metro rail project between Meena and Arafat for Haj pilgrims.
Similarly, the joint venture may explore bidding for construction contracts on a railway project connecting the phosphate and bauxite mines of the Tabuk region of northern Saudi Arabia to the Persian Gulf.
India's RITES has already been awarded the contract for operations and maintenance here. The Saudi government is also keen that Indian and Saudi companies jointly construct and operate a $3-billion phosphoric acid plant in the kingdom.
Maaden, a leading mining company of Saudi Arabia, is setting up an aluminum and bauxite complex.
"For all these mega projects, the new Maytas-SBG JV will be in an enviable position to exploit the business potential, especially in the EPC contracts," said an SBG executive.
With SBG on board, Maytas will now have the credibility and the needed bandwidth to execute large contracts, said IL&FS executives. SBG is said to be keen on working closely with Reliance Industries in its $10-billion Haryana Special Economic Zone project.
IL&FS also has a minority stake in the venture. Also on the radar is the Gujarat International Finance Tech City, where IL&FS and the Gujarat government are the co-promoters.