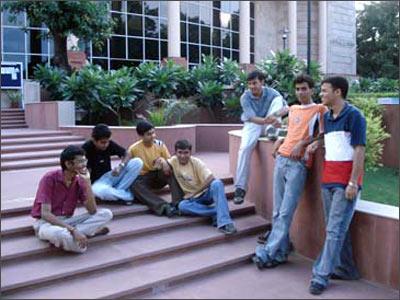 The management was open to attracting qualified people from the US for either short-term or long-term assignments in Roorkee, reports Manu Shah.
Dr Pradipto Banerji, director, Indian Institute of Technology-Roorkee, and Sandeep Singh, dean, alumni affairs and international relations, IIT-Roorkee, were on a two-day visit to Houston to look at research collaborations with RiceUniversity and the University of Houston.
During their stay they met the Roorkee alumni as well as other Indian Americans to highlight the positions available at Roorkee in research and teaching, and to raise funds for Roorkee's academic projects.
IIT Roorkee, which has a strength of 8,092 students, added about 116 members to its faculty between 2012 and 2014, bringing up their strength to 460 which Banerji said they hope to increase to 550.
The management was open to attracting qualified people, for either short-term or long-term assignments, from the US because he believes the institute would gain from their experience.
He said hiring academics from the US to teach at Roorkee or engage in research adds a different outlook and "when you have a variety of perspectives, it enriches an academic institution."
The downturn in the oil and gas industry that Houston is witnessing may be a cause of job uncertainty for engineers but Banerji suggested that in such a scenario, Roorkee offers good job alternatives. "Every time there's a downturn, the industry looks towards R&D, so when the upturn comes they have some technology that others don't. IIT Roorkee is also focusing on, and has had success in, innovation and transfer of technologies from research to real world applications. Qualified Indian expats, with industry experience and knowledge, can participate in these programmes at Roorkee, in short- and long-term projects."
While admitting that it would be difficult to match US salaries, Banerji said that perhaps "the sense of excitement about the freedom to do research" can draw talent to Roorkee.
Banerji's talk about the prospects at IIT Roorkee excited the audience but will that excitement translate into action? To ensure this, Banerji explained that IIT Roorkee could hire an experienced US industry expert right away as an adjunct professor.
Roorkee also has plans to host a conference titled 'Resilience of Infrastructure', in collaboration with Rice University, in November. India is building new infrastructure -- roads, bridges, pipelines -- while struggling to maintain the existing ones. The workshop will focus, says Banerji, on "building resilient infrastructure against natural hazards and building resilience into existing infrastructure."
Banerji, who met deans and faculty at the University of Houston along with his colleague, described the meetings as "very positive".
IIT Roorkee is willing to put up seed funding -- anywhere between $300,000 and 500,000 -- to jumpstart collaboration projects that would be mutually beneficial, though it will depend on how much a collaborator can financially match that amount.
From Houston the director and dean were headed to Santa Clara, California, to participate in the PanIIT USA conference and connect with more alumni who could link their industry or US universities with Roorkee.
Image: Students in the IIT-Roorkee campus. Photograph used for representational purposes only.