Indian Institute of Management, Ahmedabad director Samir Barua today said there was a possibility of setting up campus outside India but not in the near future due to lack of resources.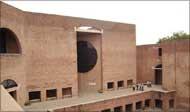 "I do not know if we can get into that (setting up campus outside abroad) right now. There are some additional responsibilities given to IIM-A. For example, mentoring of IIM Udaipur, which the government has asked us to do," Barua said.
"That would be an additional burden on us. We are not sure how quickly can we set up a campus outside the country. Till very recently, the Ministry (of Human Resource Development) was not in favour of IIMs and IITs (Indian Institute of Technology) setting up campuses outside India," he added.
But now IIM-A have got a green signal from the ministry, he said. "Just as they have allowed foreign universities to come into the country, they have said IIMs and Indian Institutes of Technology can also set up campuses outside," he said.
"But whether we have the resources to do so, I can tell you that we are not in a position. But there definitely is a possibility," Barua said.
The IIM-A director said the Sixth Pay commission affected the institutes's resources severely.
"The Sixth Pay Commission put severe strain on our resources. But that is now behind us," he added.
"We have faced the constraints in the last two years. From this year, we would be able to manage our resources well," Barua said.
He said that as far as the corpus of IIM-A was concerned it has remained static after the impact of the Pay Commission.
"The corpus had gone down in the last two yeas due to operative losses as we had to absorb a large chunk of 6th Pay Commission payouts," Barua said, adding IIM-A's corpus at present stands at about Rs 44 crore (Rs 440 million), down from over Rs 51
Crore (RS 510 million) two years ago.
IIM-A board has also approved in-principle the proposal to name facilities at IIM-A after corporates to raise funds, Barua said.
"From this year, we are hoping to recoup because the major chunk of payment has been made. So, we should be doing fine from this year onwards and build on resources," he added.
He also said IIM-A has been given responsibility by the central government to mentor the upcoming IIM in Udaipur by helping in terms of setting up administrative and academic processes, designing curriculum, training faculties and building resources.
Barua said land for the IIM Udaipur campus has been identified. C K Birla, chairman of Hindustan Motors, has been selected as the chairman of the board of governors for the institute.