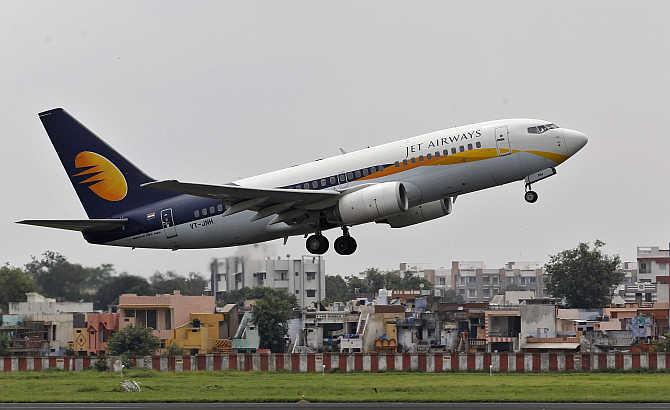 Following delays in Jet Airways servicing its interest payments, credit rating agency Icra has downgraded the company's loans from 'BB' to 'D' (default grade).
The agency has brought the airline's long-term and short-term loans and fund- and non-fund based limits amounting to Rs 7,460 crore (Rs 74.60 billion) under this rating. Jet Airways has total debt of about Rs 9,800 crore, in rupee and dollar denominations.
This includes about Rs 6,000 crore of aircraft-related loans, term loans and working capital.
The Naresh Goyal-promoted airline continues to spend about Rs 1,000 crore (Rs 10 billion) on interest every year.
The carrier, co-owned by Etihad Airways, plans to raise a $150-million foreign loan (in addition to $150 million raised earlier this year) to refinance its high-cost debt.
Owing to high operating costs, weak revenue growth, one-off maintenance expenses and an impairment charge, the airline reported a record loss of Rs 4,129 crore (Rs 41.29 billion) for FY14.
Losses have put pressure on the airline in repaying creditors.
The airline's auditors, Chaturvedi & Shah and Deloitte Haskins & Sells, said repayment of dues have been delayed by as many as 60 days.
However, the airline has managed to clear the dues on balance sheet as of May-end, according to its annual report for FY14.
Jet Airways did not respond to an emailed query on the issue. A senior public sector bank executive said it was no secret that the airline was facing stress, after reporting huge losses for FY14.
Lenders, however, aren't unduly worried about the rating downgrade, as rating agencies immediately downgrade an entity even if payments are delayed by a year.
Banks are worried about the overall health of the airline sector, as memories of the Kingfisher Airlines crisis were still fresh, the bank executive said.
At Jet Airways' annual general meeting earlier this month, chief financial officer Ravichandran Narayan told shareholders the company was rationalising operations, with a focus on international routes.
The company has finalised a three year business plan to increase revenue and control costs.
For the first quarter of FY15, the airline cut its loss to Rs 217 crore (Rs 2.17 billion), primarily through increased fleet utilisation and improved yields.
"It is very disappointing that the recently published ICRA downgrade is based on a historic delay in debt servicing, which occurred and was resolved in the previous financial year."
"In fact, there were no outstanding default in the repayment of dues to the financial institutions and banks as at 31 March 2014.
Jet Airways can confirm that the airline is current on all its loan obligations and interest payments. Our recently published first quarter results show a positive trend in performance and that the airline's three-year business plan is on track.
Airline representatives will meet the agency on Monday to set the record straight," Jet said in a statement.