In an interaction with journalists after the monetary policy announcement, Reserve Bank of India Governor Raghuram Rajan speaks on various issues.

Edited excerpts: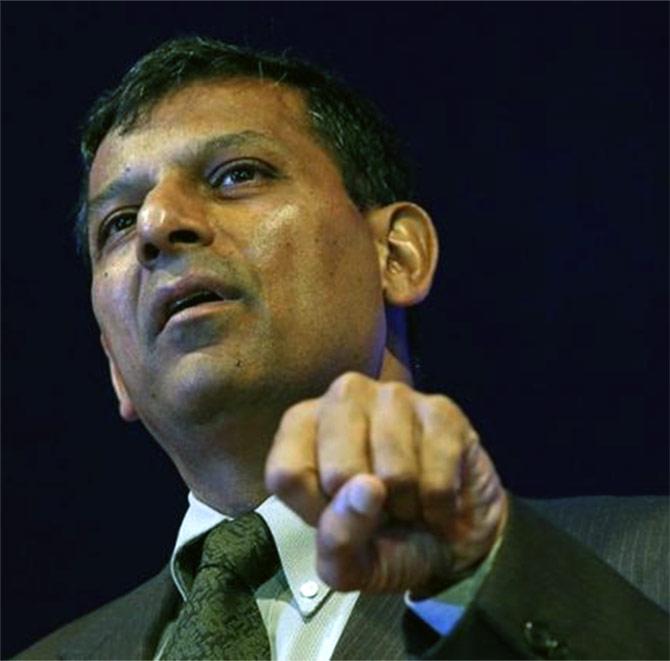 Image: Government of India has the right to give directions to RBI . Photograph: Reuters
Policy rationale
We held the policy rate at 7.25 per cent as we await data on whether the recent increases in inflation, including non-food, are temporary and whether the monsoon will continue to be near-normal.

We note the recent fall in oil prices, which will be very beneficial for India. As we await the transmission of our front-loaded past actions, we will monitor developments for emerging room for more accommodation.
Inflation trajectory
On inflation expectations, they do get altered considerably by certain salient items such as food, milk. Various components of food are more salient than others, like vegetables, for example. So, given that, yes, it is a concern, one should keep it in that perspective, as one of the factors we are looking at.
Increase in foreign portfolio investment limit
RBI is taking to govt about a medium-term framework for FPI limits in debt securities. This will include, one, a target for what fraction of the bond market will be constituted by FPIs in the medium term.

Two, an announcement of staggered change in limits every six months, with these being released on a monthly or quarterly basis. Three, limits to be specified in rupees, so that these do not vary with exchange rate movements.
Payments and small finance banks
RBI has received recommendations from the external advisory committees on payment banks, chaired by Nachiket Mor, and on small finance banks, by Usha Thorat.

An internal committee of RBI composed of the deputy governors and governor is going through each of these applications again. Finally, a set of recommendations will be presented to the RBI board, which will decide the list of successful applicants. I hope to announce at least one set of bank licences by the end of this month.
Monetary policy committee (MPC)
There has been a lot of commentary about composition of the (proposed) committee. RBI believes that institutionalising the process of monetary policy formulation is vital, given that the government has given RBI a clear inflation objective.
At present, ultimately, the responsibility is the governor's. Going forward, there are at least three virtues of taking the decision away from the governor and giving it to a committee. A committee can represent different viewpoints and studies show its decisions are typically better than an individual's.

Second, spreading responsibility for the decision can reduce the internal and external pressure that falls on an individual. Third, a committee will ensure broad monetary policy continuity when any single member, including the governor, changes.
So, we have been enthusiastic supporters for an idea of a committee.
Broad consensus on MPC
From RBI's side, we want to ensure that the structure will ensure continuity in the policy as the market attempts to understand the voting patterns of new MPC members. I can reiterate the (Union) finance secretary's comments yesterday, that government and RBI have reached a broad consensus on what such a committee should look like and what the powers of the governor should be.

While the details have to be ironed out, there are no differences between govt and RBI in this matter. We should await formal announcement of the committee proposal, since it requires change in the RBI Act and Parliament approval.
Veto power of the chairman
Currently, the situation is that the governor has the veto; effectively, all advice is only advice. Ultimately, the decision is the governor's. If we continue to retain a veto, it doesn't change the current situation; it maintains status quo.
RBI autonomy
I would say de facto independence (exists) including in the kinds of people that the government has historically appointed as RBI governors and the kind of space it gives them.

The Government of India has the right to give directions to RBI and tell what it should do; there is a clause (on this) in the RBI act. That direction hasn't been given in the history of RBI. So, you have to distinguish from what is de jure from what is de facto and I think, de facto, RBI is independent.
Indian Financial Code
We are examining the new version of the Code and will offer out views on it. Without examining the details, I do not want to comment. But, it seems the direction (on the report) is in the right direction. We never said there should not be any process by which RBI decisions can be appealed. We were worried about excessive oversight, trying to second-guess regulatory and policy decisions.
Credibility of NPA numbers
There are a number of checks and balances in trying to ensure that NPAs (non-performing assets) announced are true and fair. We also supervise banks and go into their portfolios to see if they have declared all NPAs that they should have and the bank management is hauled up if there are divergences.
Now, going forward, the key question is how does stress in the banking system play out. There are some important areas that are stressed. Power is one, the steel sector is another. We are certainly monitoring that process and trying to urge that restructuring, if it when done, is deep, is appropriate, so that projects are put back on track.
5/25 rule
The 5/25 rule is sometimes derided. We are examining 5/25 cases to make sure they are used for the right purpose. The point is not to postpone problems into the future or to postpone repayments. In fact, we are insisting that there shouldn't be a significant moratorium on repayment in the 5/25 rule.