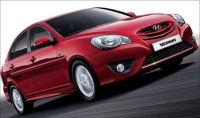 South Korean carmaker Hyundai Motor on Wednesday said it will introduce more models in all segments in India with an aim to change its image of a small car maker and to maintain a market share of 20 per cent in the country.
With constraint of having a production capacity of about six lakh units, the company is focusing more on the Indian market and shifting some of its export sales to the country.
To strengthen its position in the upper mid-sized sedan segment, the company's subsidiary - Hyundai Motor India Ltd launched the new version of 'Verna', in both petrol and diesel options at an introductory price between Rs. 6.99 lakh and Rs. 10.75 lakh (ex-showroom Delhi).
"HMIL is very important for Hyundai Motor Company. HMIL has kept pace with the growth in the Indian market and we'll offer a full line of products here," said HMC President and CEO SS Yang in New Delhi.
In order to change its image from only a small car maker, the company will bring in new models in all segments such as small car, mid-size and even premium segment, he added.
"Indian market is a priority for us and we have supported this market through technology and new models... We will continue to bring in new technology," Yang said.
Hyundai, which has profitable operations in India, has so far invested $1.8 billion (over Rs. 8,000 crore) in the country. It is
currently putting in Rs. 400 crore (Rs. 4 billion) to set up a diesel engine plant in New Delhi.
HMIL at present sells here small cars; Santro and i10, premium hatchback i20, mid-size sedans Accent and Verna, premium sedan Sonata Transform and sports utility vehicle Santa Fe.
Sales in the Indian market contributed about eight per cent to HMC's global sales of about 36 lakh units last year.
Talking about the new Verna, Yang said: "With the launch of the new Verna, I am confident that it will help in consolidating our position in the mid-size segment.
"Our brand image will enhance and we'll no longer be considered as a small car maker in India."
HMIL, whose market share fell to 18.10 per cent in FY'11 from 20.61 per cent in the previous fiscal, is hoping to regain its lost share and maintain it in the future.
"We would like to maintain our market share at about 20 per cent in India.
"Unfortunately, our production capacity is only about 600,000 units per annum," Yang said.
To handle the situation, the company is focusing more on the Indian market by shifting some of its exports volumes to the domestic market after it opened two new plants in Czech Republic and Russia to meet the demand in Europe, he added.
In 2010, domestic sales of HMIL increased by 23.1 per cent at 356,717 units, while exports from India declined by 8.5 per cent at 247,102 units.