Hypermarkets, or large supermarkets, run by Tata-owned Trent and RP Sanjiv Goenka Group's Spencer's are tweaking their operating strategies to improve store productivity and bolster margins. Both Star Bazaar, the hypermarket chain of Trent, and Spencer's are chasing profitability after years of losses.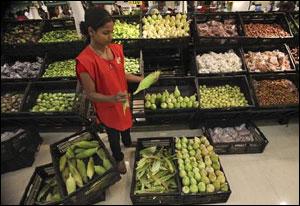 Star Bazaar is looking at opening stand-alone stores, as opposed to those inside malls, due to high common area maintenance (CAM) charges, built-up charges and rents, which eat into its income.
"Apart from saving us high costs, it also helps customers in terms of commuting and parking," said a senior Tata executive, who did not want to be named. "We are tweaking sizes according to demand. We can even look at compact sizes."
Star Bazaar has already brought down the size of its stores to 40,000 to 50,000 sq ft from an average of 70,000 sq ft earlier. The chain's operating entity, Trent Hypermarkets Ltd (THL), has 15 Star Bazaars, and plans to add three-to-four stores every year. Trent-run department store Westside is also looking at stand-alone properties to open stores, as CAM charges have hit Rs 50 a sq ft against Rs 10-12 a sq ft, which are considered viable for department stores.
THL reported negative earnings before interest and taxes of Rs 51.46 crore in 2011-12 compared to a negative EBIT of Rs 34.58 crore in FY11. The company's net sales went up 33 per cent in FY12 at Rs 649 crore against Rs 489 crore the year before.
Apart from stores, the chain is looking at launching community and ethnic food and global food products in the stores, which will fetch more margins. It is also expected to roll out more of Tesco's private labels in its stores, he said.
Consultants say opening large stores can drain operating profits. Since hypermarkets are considered a long gestation business, tweaking models to cut costs and improve margins are crucial, they say. "Tweaking sizes as per demand makes sense from profitability point of view and margins in speciality foods always fetches more margins," said Raghav Gupta, principal, Booz and Company.
Speciality food items carry margins of 15 to 25 per cent and Kishore Biyani's Future group has launched community food items under the Ekta brand in a big way to tap consumers for that.
Even Hypercity, owned by Shoppers Stop, is reducing the size of its stores from an average of 100,000 sq ft to 50,000 sq ft. It has a plan to cut the overall retail space of 12 stores at Hypercity from 1.3 million sq ft earlier to 1 million sq ft in the next two-three quarters.
"It will reduce rent and operating costs and bring efficiencies," Govind Shrikhande, managing director of Shoppers Stop, said. However, he said the break-even of the chain may be pushed to FY16 as the process to right size the stores was taking time.
Hypercity is also increasing the share of fashion from 7.5 per cent to 15 per cent of the total. "We achieved 10 per cent this year. We will hit the target in 24 months. It will push our margins by 150 basis points," Shrikhande said. Unlike others, Spencer's, which is looking at break even this year, is increasing size of stores from 23,000 sq ft earlier to 29,000 sq ft now. However, the chain plans to add more non-food items such as apparel, general merchandise and so on which will fetch better margins for the chain.
Though Spencer's has closed small stores in Pune in Maharashtra and some stores in Tamil Nadu, it is looking at adding 50 per cent more hypermarkets this year, said its chief executive Mohit Kampani.
The chain is also looking to open a new version of hypermarket by June this year in Kolkata.
"We are investing heavily in customer service. We are reducing the billing time by 50 per cent so that if shoppers were taking five minutes to check out, we want to bring it down to half. We also want to reduce the time taken to find products by 50 per cent," Kampani said.