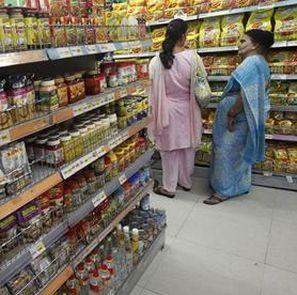 Hindustan Unilever Ltd, the Indian unit of Anglo-Dutch consumer group Unilever Plc, reported an 18 per cent rise in quarterly profit, beating estimates, helped by a revival in consumer spending and lower raw material costs.
The company, Asia's largest consumer goods maker by market capitalisation, has been hurt in the last few quarters by weaker consumer demand in Asia's third-largest economy that grew less than 5 per cent in the past two fiscal years.
The company said on Monday its domestic consumer business grew at 8 per cent during the quarter.
A sharp easing of inflation since September, an improvement in consumer sentiment on hopes of a revival in economic growth and a fall in commodity prices have pushed the Hindustan Unilever stock up nearly 25 per cent since October.
Hindustan Unilever's standalone net profit for the three months to December 31 rose to Rs 1,252 crore or Rs 12.52 billion ($202.85 million), up from the Rs 1,062 crore or Rs 10.62 billion a year earlier, the company said in a statement on Monday.
Analysts were expecting the maker of Dove soap, Sunsilk shampoo and Lipton tea to make Rs 1,081 crore or Rs 10.81 billion in profit, according to Thomson Reuters data.