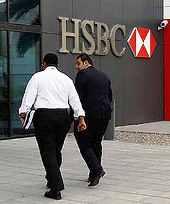 The Reserve Bank of India is looking into the issue of non-compliance of anti-money laundering norms by the Indian staff of HSBC raised by a US Senate Committee, a senior Finance Ministry official said on Thursday.

"I am confident that RBI is looking at it (HSBC issue). I am aware of it. They are very conscious of the issue," Department of Financial Services Secretary D K Mittal told reporters in New Delhi.

He said the finance ministry would assist the RBI with the required inputs. "HSBC is a regulatory issue.

"It is for RBI to comment. If they need any input from us they will have to tell us," Mittal said.

HSBC's India staff have come under the scanner for deficiencies in their role as 'offshore reviewers' of the global banking giant's compliance to safety mechanism against money laundering and terrorist financing.

A probe by the US Senate's Permanent Sub-committee on Investigations found that HSBC's Anti-Money Laundering Compliance Department, which included employees in India, was highly inadequately staffed.

Besides, deficiencies were found in the quality of the work done by HSBC's 'offshore reviewers in India', who were used for clearing a major backlog of suspected transaction alerts at the bank.
Photograph: HSBC