Unless security is given paramount importance, it is difficult for real estate activity to pick momentum in J&K.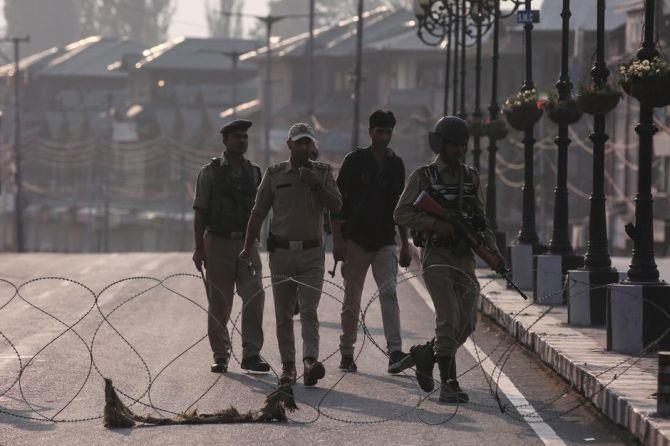 There has been visible excitement among businesses and individuals on the prospect of opening up of the nascent real estate market in Jammu & Kashmir to non-locals.
This follows the recent decision by Parliament to abrogate the special status given to Jammu and Kashmir under Article 370 and Article 35A of the Constitution.
However, experts feel it will take a while before the regulatory landscape becomes conducive for transparent real estate transactions in the troubled region.
Anuj Puri, chairman, ANAROCK Property Consultants, points out that the region remains highly sensitive and security concerns may keep property buyers at bay.
"Even now, the real concern will be security. Unless security is given paramount importance, it is difficult for real estate activity to pick momentum here," he says.
Experts say, so far, real estate activity in the region has remained limited to local residents.
As a result, the property market has remained depressed.
For instance, property prices in Srinagar, a top tourist destination, hover around Rs 2,200-Rs 4,000 per sqft.
This is significantly low compared to other tier II and tier III cities and towns in other parts of the country, they add.
The first thing that the government should try to do is to bring in transparency in J&K's real estate market, say experts.
"This will help de-mystify the market. In the current situation, getting valuations done is a challenge," says Gulam Zia, executive director at Knight Frank.
Legal experts point out that the action by Parliament may come under review of the Supreme Court.
"Investors would want to have a settled position before moving in," says Rajesh Sivaswamy, senior partner at law firm King Stubb & Kasiva.
Further, necessary changes need to be reflected in law since the right under Article 35A that provided the J&K government with the right to decide on who qualified as a permanent resident of the state has now been done away with.
The silver lining though is that the Jammu and Kashmir Real Estate (Regulation and Development) Act, 2018, is already in place.
Experts say the Real Estate Regulatory Authority (RERA) will have a key role to play in putting in place the regulatory landscape for planned development and setting the groundwork for a transparent process in the development of real estate projects.
"The rules will help to build confidence in the nascent market," says the head of research of a real estate consultancy firm who did not wish to be identified.
The laws and regulations must reflect the eco-sensitivity of the region, along with its socio-economic considerations, say experts.
"Regulators and administrators have to ensure that a popular tourist destination such as Srinagar should not turn into another Shimla, Dehradun or Darjeeling, reeling from the burden of burgeoning urban infrastructure," points out another real estate expert.
Like in other states, the RERA here, too, must give an equal footing to both buyers and builders.
"If rules are in place from the very beginning, there will be little scope for manipulations later on.
"Moreover, transparent transactions will help build the confidence of investors and buyers," says Puri.
Establishment of the RERA will keep speculative buying under check, notes Girish Rawat, partner, Dhir & Dhir Associates.
As a first, experts say, the existing development plan for J&K (including those for Ladakh) have to be revised and brought in tune with the environmental laws in other parts of the country.
Further, J&K's real estate Act would also have to be re-worded to accommodate the changes effected by Parliament.
Rawat says the availability and status of the land records and property title records maintained by the authorities in J&K would play a key role in the decision-making process for any investor.
"To avoid ambiguity, and to boost the investors' confidence, the authorities should come out with a White Paper on the rules for buying and selling property in J&K."