It's good news for those who fly frequently. They can avail of some interesting offers from their credit card companies, including co-branded airline cards, zero per cent interest on ticket repayments and even free tickets in a few cases.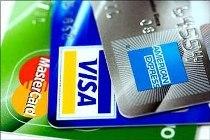 No wonder, when Ramesh Iyer's daughter was travelling to the UK for education and his wife wanted to spend time with her, Iyer used his co-branded Standard Chartered Emirates' credit card to book the tickets. And, he got a deal -- he paid only Rs 6,000 (mainly taxes) for his wife's return fare.
Iyer's credit card aligns him with Emirates Airlines' loyalty programme, Skywards, where members have to pay an upfront charge of Rs 10,000, which allows them up to 25,000 redeemable bonus air miles. Further, on every Rs 150 spent through the card, there are an additional four air miles.
Considering the Rs 10,000 spent on the upfront fee and Rs 6,000 on taxes, Iyer's cost worked out to be Rs 16,000.
Yet this proved cheaper compared with the Rs 40,000 he would have paid otherwise.
Given the cost advantage, Iyer plans to renew his membership, as he will be travelling to the UK often.
According to Sandeep Bhalla, business-head, credit payment products, Citibank India, air travel is the top-spend category as far as credit cards are concerned. Obviously, card companies are concentrating on these.
Co-branded cards
Recently, ICICI Bank launched a co-branded card with Kingfisher Airlines, namely ICICI Bank Kingfisher Airlines MasterCard Credit Card.
These cards link customers to the airline's frequent-flyer programme or its loyalty club. Such clubs as Jet Privilege and King Club give benefits like discounts, upgraded vouchers and access to travel-related privileged services at airports and hotels. The cards can also be used for other retail transactions.
But redeeming air miles can prove restrictive if the card issuer has an arrangement for redemption with a specific airline only.
Arvind Hali, head (retail assets and credit cards), Dhanlaxmi Bank, says, "Several operational issues may arise if there are more than three partners in a tie-up. But airlines are exploring ways to allow customers the privileges on their extended network". The bank will soon announce a tie-up with a domestic airline.
Being airline independent is a trend that is catching on. Deutsche Bank World Miles Credit Card works across all airlines worldwide, while the latest Citibank PremierMiles Credit Card allows customers to earn air miles across 50 domestic and international airlines.
Most cards charge fees ranging from Rs 5,000 annually (Citibank PremierMiles Credit Card) to Rs 25,000 for a lifetime (American Express Kingfisher First Platinum Card).