On offer: Separate agri Budgets, free water, hike in direct transfers and a whole lot more.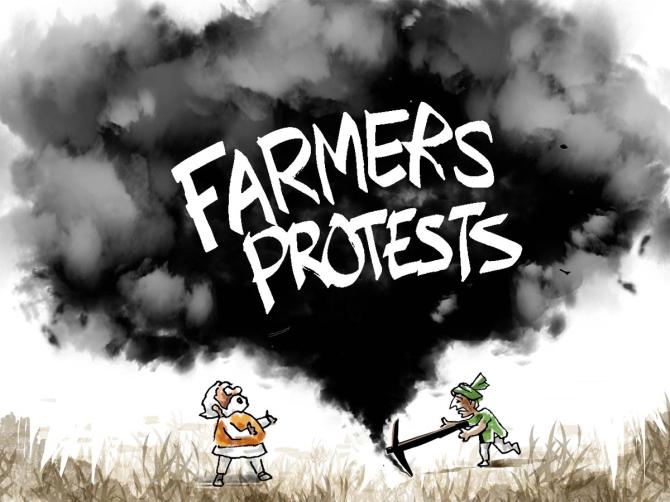 With the farmers' protest against the three new laws and in support of legalising the minimum support price (MSP) going strong, state governments have annou­nced a slew of measures in their annual Budgets to placate farmers.
The Centre kicked things off in the Union Budget by assuring farmers that the MSP would continue and coming out with a report card to demonstrate its commitment.
However, these efforts don't seem to have yielded tangible results.
In their respective Budgets, states chose to go a step further by announcing a variety of measures.
Punjab
Dedicating the state budget to farmers, Punjab, the epicenter of the protests, launched a new scheme called 'Kamyaab Kisan Khushaal Punjab' worth Rs 3,780 crore, aimed at improving the income of farmers.
It will also waive Rs 1,186 crore worth of loans of 113,000 farmers and Rs 526 crore of landless farmers in the next phase, under crop loan waiver scheme in 2021-22.
It also announced Rs 200 crore for a crop diversification programme.
Uttar Pradesh
Uttar Pradesh was the last to see the protests against the three farm Acts flare up.
But the January 26 violence at the Red Fort and subsequent outburst of prominent Bhartiya Kisan Union leader Rakesh Tikait galvanised protestors and massive rallies and panchayats are being held at the village level in most of western UP.
Mounting sugarcane dues and the state's decision to maintain status quo on its administered pri­ce for the past three years have aggravated cultivators, pushing them to join hands with the agitators.
The UP government, in its Budget presented a few weeks ago, tried to assuage some of the concerns by allocating Rs 700 crore to provide free water to farmers.
Sources said water will be drawn from government sanctioned borewells and tubewells for the scheme.
Madhya Pradesh
Though the farmers' agitation has not been as intense in Madhya Pradesh as in other parts of North India, experts said a big reason for this is that prices of some kharif crops, this year, have been better than previous years.
The MP government in its Budget allocated Rs 3,200 crore to pro­vide an additional Rs 4,000 per year to all beneficiaries of PM Kisan Samman Nidhi Yojana (PM-KISAN).
Under the PM-KISAN scheme, beneficiaries across the country have been provided Rs 6,000 a year to purchase inputs.
The state government has also made a provision of Rs 1,000 crore towards interest-free loans for farmers from cooperative banks.
It has decided to provide Rs 2,000 crore for the Chief Minister's Crop Procurement Programme.
Rajasthan
Rajasthan, where massive farm protests against the three laws began gathering more steam after the January 26 incident, has decided to come up with a separate agriculture budget from the coming financial year.
That apart, the Congress-led government has allocated a massive Rs 16,000 crore for the farm loan waiver scheme that it started after coming to power and plans to bring an additional 300,000 farmers into its fold in the coming year.
The state government also made a provision of Rs 16,000 crore for subsidised electricity to farm­ers and proposed a new agriculture dist­ri­bution company in the Budget.
Chhattisgarh
Chhattisgarh has been relatively untouched by the farm protests, though it has seen sporadic incidents.
In its Budget, the state government has announced the exp­ansion of the Godhan Nyay Yojana, under which it provides remuneration to farmers and cultivators for supplying cow dung.
The scheme has been a great success, and other states too are looking to come out with a similar scheme.
Centre's schemes
With thousands of farmers protesting at Delhi borders for months, all eyes were on Finance Minister Nirmala Sitharaman's Budget speech.
She responded by laying down a statement on the Modi government's track record on grain procurement compared with its predecessors along with an ann­ou­ncement to allow agriculture produce marketing companies (APMCs) access to the Rs 1 trillion Agr­iculture Infrastructure Fund (AIF).
Though there was little for the farm sector in terms of allocation, as the Budget for agriculture and allied sector was pegged at Rs 148,301 crore in FY22, up just 2.02 per cent from the revised estimate of FY21.
For AIF, too, the Budget has allocated a sum of Rs 900 crore in FY22.
The AIF guidelines provide for an interest subvention of 3 per cent per annum for a maximum loan limit of Rs 2 crore, to be repaid over seven years.
"Overall, it is a status quo Budget for the agriculture sector in general and seed industry in particular," said Ram Kaundinya, director general of Federation of Seed Industry of India (FSII).
She said that in case of wheat, the total amount paid to farmers in 2013-14 was Rs 33,874 crore, while in 2019-20, it was Rs 62,802 crore.
In 2020-21, she said the amount paid to farmers is over Rs 75,000 crore.
With inputs from PTI