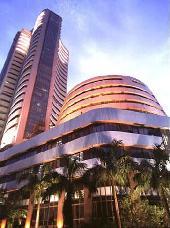 Markets ended higher after a late recovery led by realty, FMCG, healthcare and power stocks.

The Sensex, after touching a low of 19,633 on global pressure, rebounded to end at 19843 - up 51 points.

Nifty ended up 13 points at 6,002.

Asian stocks dropped ahead of the beginning of the earnings season in the United States, the world's biggest economy.

Japan's Nikkei shed 0.8% to 10,508. Hang Seng, Kospi and Straits Times were also in red.

Foreign institutional investors bought shares worth a net Rs 963.05 crore on Monday  as per provisional data from the stock exchanges.

The Confederation of Indian Industry on January 5 2013 said that reflecting a continuing deterioration in the macro economic scenario in the country, the CII Business Confidence Index dropped below 50 point mark during the third quarter of the current fiscal.

Fitch Ratings reiterated on Tuesday its "negative" outlook on India's sovereign credit rating, citing concerns about slowing economic growth, persistent inflationary pressures and an uncertain fiscal outlook.

The comments from Fitch sovereign analyst Art Woo sent the rupee lower, reinforcing worries that India is still at risk of losing its investment-grade rating from the credit agency.

From the sectoral space, BSE consumer durables index shed 2% to 7,687.

Metal, capital goods, IT and Oil & gas also declined around 0.5-1% each.

Pharma stocks rose on renewed buying with the BSE healthcare index jumping 0.7% at 8,300.

Realty index led gains - up 1.2% at 2,202.

ITC added 2% to Rs 285
and was the biggestgainer in trades.
HDFC added 2% followed by Bhel and Bharti Airtel. Pharma stocks shone with Cipla, Sun Pharma and Dr Reddy's gaining 1-1.3% each.
On the other hand, Infosys slipped 1.4% at Rs 2,341. Incidentally the company will anounce its quarterly numbers on Friday.
Tata Steel, Hindalco, Sterlite and Jindal Steel shed 1-1.5% each.Wipro, L&T and reliance from the heavyweights, slipped in trades as well.
DLF gained 0.7% at Rs 237. The Competition Commission of India (CCI) on 3 January 2013 said it has passed a supplementary order modifying the Apartment Buyers Agreement entered into between realty major DLF and the apartment allottees.
United Spirits declined as the mandatory open offer by Diageo plc to acquire up to 3.77 crore equity shares of United Spirits constituting 26% the enlarged share capital of USL at Rs 1,440 per share has been delayed.
TTK Prestige gained 2% after company said after trading hours on Monday it has received Japanese patent for its microwave pressure cooker.
Tata Power ended up 0.6% to Rs 109.
The company on Monday announced synchronisation of its 800 megawatts (MW) sized Unit 4 of the Ultra Mega Power Project in Mundra, Gujarat.
With the synchronisation of Unit 4, the thermal power generation capacity of Tata Power stands at 6,847 MW and the generation through clean sources such as hydro, wind and solar stands at 852 MW.
BSE market breadth was neutral. Out of 3,071 stocks traded, 1,478 stocks have declined while 1,451 stocks have advanced.