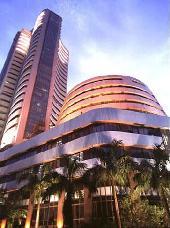 Markets ended higher for the fourth straight day, amid a volatile trading session, led by software majors and select bank shares.

Investors traded cautiously intra-day with key benchmark indices dropping nearly 0.4% tracking global markets  after several Federal Reserve officials expressed concerns about continuing to expand stimulative bond buying in the Thursday's FOMC meet.

The 30-share Sensex of the Bombay Stock Exchange gained19.30 points to end at 19,784.08 and the 50-share Nifty rose 6.65 points to end at 6,016.15.

Oil companies rallied on reports the petroleum ministry has proposed a gradual rise in diesel prices, by 1 rupee a litre every month over a 10-month period.

Investors also bought IT stocks on hopes of better third quarter earnings. Infosys, the bellwether stock of the technology index, will release results on January 11.

Meanwhile, growth in the business activity in India's services sector is at a three month high in December, at 55.6 according to HSBC Services Business Activity Index. In November, the Index reading was 52.1.

Global risk appetite was, however, weak. Asian and European stocks traded on a negative note.

Hong Kong's Hang Seng declined  0.3% to 23,331, Taiwan's Weighted index fell 0.4% to 7,805, Singapore's Straits Times was down 0.06% to 3,222.

Equity markets in Japan and mainland China opened today with Shanghai Composite trading up 0.25% to 2,276 while Nikkei gained 2.8% to 10,688.

European indices such as France's CAC declined 0.2% to 3,713, Germany's DAX dropped 0.14% to 7,745 while France's FTSE shed 0.01% to 6,046.

In the currency market the dollar rose, hitting its highest since July 2010 against the yen at 87.835 while the euro fell to a three-week low of $1.3019. The dollar also touched a six-week
high against a basket of major currencies.
The dollar's rise makes dollar-based assets more expensive for non-dollar investors and its rise hit precious metals and oil.
Brent crude shed 0.6% to $111.47 while gold fell 1% to $1,645, dragging silver down more than 2% to $29.48.
On the domestic front, most of the sectoral indices recovered losses.
Oil & gas, PSU, technology, consumer durables and IT gained while metal, FMCG, capital goods, autos, real-esate, banks led declines on BSE.
Among key Sensex stocks, laggards included Larsen & Toubro dropped 0.6%, Jindal Steel, Tata Steel, Hindalco and Sterlite fell nearly 2% each while Tata Motors was down 0.7% on BSE.
The gainers included PSU names such as GAIL, BHEL and ONGC gaining nearly 2%, ICICI Bank and SBI rose 1% and 0.6% respcetively , TCS, Infosys and Wipro rose 0.5-1.5% on BSE.
Other notable movers included Tecpro Systems which rose 2.4% to Rs 152.40 after the company said it has received an order worth of Rs 147 crore from Damodar Valley Corporation for supply and related services for coal handling plant package for Bokaro Thermal Power Station.
Shares of DLF were down over 0.4% after the Competition Commission of India has modified the buyer-builder agreement in the case of 'abuse of dominance' by the country's largest realty player DLF.
Shares of Hindustan Dorr-Oliver ended up 5% at Rs 28 after the company late Thursday said it has received two prestigious orders from Gujarat State Fertilisers and Chemicals Ltd worth Rs 277 crore.
The broader markets outperformed benchmark indices with mid-caps and small-caps gaining nearly 0.4% on BSE.
The market breadth ended positive. Out of 3,070 stocks traded, 1,522 stocks gained compared to 1,434 declined on BSE.