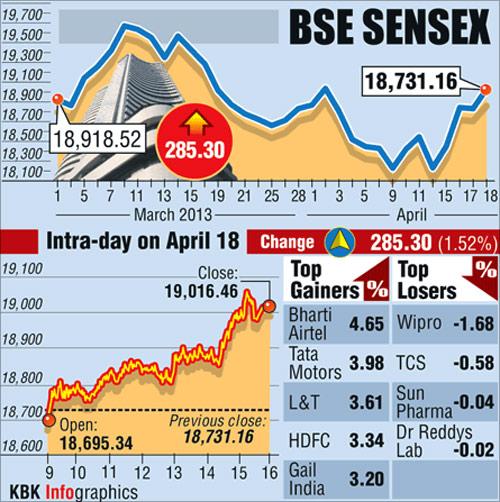 Key Indian benchmark indices surged this Thursday with 30-share Sensex closing above 19,000 levels while 50-share Nifty scaled upto 5,783 but fell short of 5,800 in today's spectacular trading session.

Investor's risk-appetite was firm after prices of global commodities such as brent crude and gold slipped further, that will help bride the burgeoning current account deficit.

Brent Futures for June delivery traded at $98.01 per barrel after slipping to its 9-month low of below $97 a barrel intra-day . Likewise, Gold Futures for June contract eased by Rs 232, or 0.90%, to Rs 25,447 per 10 gm.

If this declining trend in commodity prices holds, CAD could come down to around three per cent in 2013-14 due to the lower import bill, said analysts.

Adding to the optimism was country's trade data which showed that the exports grew for the third month in a row, rising by 6.97% in March though on annual basis it declined 1.76% to $300.6 billion in 2012-13.

Exports in March stood at $30.8 billion compared to $28.8 billion in the same month of previous year.

Reflecting the positive bias, the Bombay Stock Exchange's 30-share index Sensex gained 285.30 points to end at 19,016.46 while the National Stock Exchange's 50-share Nifty rose 94.40 points at 5,783.10.

Indian financial markets will remain shut tomorrow on account of Ram Navmi.

Rate-sensitive sectors such as banks, real-estate gained amid hopes that the central bank would ease monetary policy more aggressively next month to boost growth into the Asia's third-biggest economy.

Meanhwile, global risk appetite was weak after disappointing corporate earnings of Bank of America coupled with weak revenue forecast for Apple Inc.

Apple Inc shares tumbled on worries about weakening demand for the iPhone and iPad.

Asian markets traded mixed with China's Shanghai Composite Index up 0.17% to 2,197, Hong Kong's Hang Seng declined 0.26 % to 21,512, Singapore's Straits Times fell 0.06% to 3,289 while Japan's Nikkei was down 1% to 13,220.

In Europe, France's CAC rose 0.8% to 3,628, Germany's DAX added 0.5% to 7,539 and UK's FTSE was up 6,264.

Back
home, the key sectoral indices such as consumer durables, autos, banks, capital goods, PSU gained while IT sector declined on the BSE.
The gainers on the Sensex were Bharti Airtel rising 4.6%, Larsen & Toubro and BHEL gained 3.7% and 1.5% respectively, HDFC, SBI and ICICI Bank rose between 2.2-3.3% while Tata Motors surged 4%on the BSE.
The laggards were Wipro and TCS dropping 1.6% and 0.7% respectively while Sun Pharma declined 0.04% and Dr Reddy's fell 0.02% on the BSE.
The key notable movers are, Wipro which dropped by 1.6% ahead of its January-March quarter (Q4) earnings due on April 19.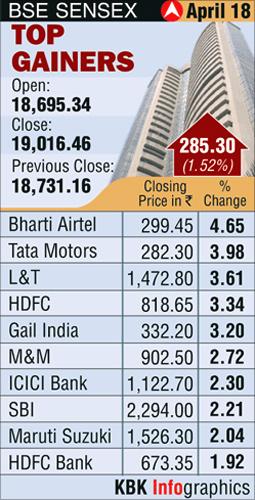 Shares of metal companies are trading lower by up to 3% in noon deals after the Supreme Court (SC) today cancelled all the mining leases for extraction of iron ore in 49 category C mines in Bellary, Tumkur and Chitradurga districts of Karnataka.
Among the individual stocks,NMDC is the largest loser, down 2.5% at Rs 123.75 on BSE. JSW Steel, Steel Authority of India, Jindal Steel and Power, Sterlite Industries and Tata Steel ended lower by 1- 2%.
IndusInd Bank surged 7.2% to Rs 450.10, also its record high, on reporting 38% year-on-year (yoy) jump in net profit at Rs 307 crore for the quarter-ended March 2013 (Q4), due to higher interest and other income.
The private sector bank had profit of Rs 223 crore in a year ago quarter.
Gayatri Projects soared 11% to Rs 75.80 after the company said its arm has executed power purchase agreement (PPA) with Andhra Pradesh government for its 1,320 MW power plant in the state.
MRF gained almost 5% to Rs 12,898 after reporting a healthy 41% year-on-year (yoy) jump in net profit at Rs 211 crore for the second quarter ended March 2013 (Q2) due to lower raw material cost.
The country's top tyre-maker had a profit of Rs 150 crore in the same quarter last year.
The broader markets gained with mid-caps and small-caps adding 0.6-0.7% on BSE.
The market breadth ended positive. Out of 2,502 stocks traded, 1,319 stocks gained compared to 1,048 declined on BSE.