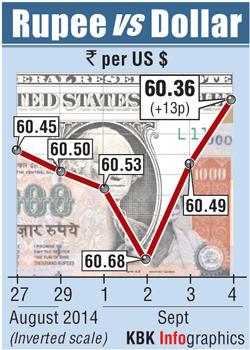 The rupee gained for a second straight session on Thursday as gains in other Asian currencies aided but a further rise was limited on the back of profit-taking seen in the domestic share market.

The Sensex snapped its nine-day winning streak as investors pared positions in blue-chips such as ICICI Bank after a string of record highs earlier this week, and as caution prevailed ahead of a key European Central Bank meeting.

Traders say any further monetary stimulus easing by the ECB could be a positive for Indian equities as it could bring in more foreign fund inflows. The ECB faces intense market pressure to take policy action.

Foreign fund flows into the domestic share and debt markets have been the key for the rupee. Total inflows so far in 2014 stand at $30.6 billion.

"The next move in the rupee is likely to be towards 61.50 instead of 60.00
as the risks are building up.
"The very next global stress - rupee will move to 61.50," said Samir Lodha, managing director at QuantArt Market Solutions. "ECB easing won't mean much for the INR as for most Indian trades the USD continues to be the main funding currency."
The partially convertible rupee closed stronger at 60.3550/3650 versus Wednesday's close of 60.4850/4950.
Traders broadly expect the rupee to remain in a range of 60 to 61 over the next week.
Losses in the euro ahead of the ECB meeting and mild gains in the dollar versus other majors limited a further rise in the rupee.
Traders said they will also wait for the U.S. non-farm payrolls data on Friday which could also help adjust expectations about when the Federal Reserve will remove its monetary stimulus.
In the offshore non-deliverable forwards, the one-month contract was at 61.60 while the three-month was at 61.19/29.