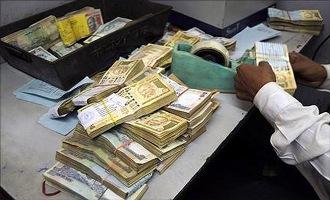 The rupee weakened marginally on Monday in the absence of any fresh domestic triggers, with traders waiting for the outcome of the European Central Bank's policy meeting this week for near-term direction.

Traders said volumes in the currency market were low on account of the U.S. Labour Day holiday and following a long-weekend back at home.

The euro hit a fresh one-year low, as heightened worries about the crisis in Ukraine kept the currency on the defensive ahead of a European Central Bank policy meeting later this week.

Traders say foreign fund flows into the stock and debt markets will remain crucial for direction in the near-term.

Although foreign investors have remained buyers of Indian shares and bonds through the year, some concerns are emerging about whether the trend can continue, especially since they have now almost reached their purchasing limit in debt markets.

"The ECB meeting will be watched to see if there is any further liquidity provided. The rupee is likely to hold in a 60.20-60.80 range this week," said Vikas Babu Chittiprolu, a senior foreign exchange dealer with state-run
Andhra Bank.
The partially convertible rupee closed slightly weaker at 60.5250/5350 versus Thursday's close of 60.4950/5050. Financial markets were closed on Friday for a local holiday.
Asian shares edged higher on Monday, with investors wary of a deepening crisis in Ukraine and a downbeat China manufacturing survey.
Traders said the better-than-expected growth data released on Friday aided sentiment for the rupee, limiting further losses.
Gross domestic product grew a faster-than-expected 5.7 percent year-on-year, government data showed on Friday, sharply higher than a provisional 4.6 percent expansion in the previous three months.
The ECB meeting on Sept. 4 will be the next key trigger. Accommodative policies from global central banks have led to a surge of inflows into emerging markets, with foreign investors buying a net $17.1 billion in debt in India and $12.95 billion in equities so far in 2014.
In the offshore non-deliverable forwards, the one-month contract was at 60.90 while the three-month was at 61.48.