India's foreign exchange reserves declined by a whopping $4.343 billion to $367.646 billion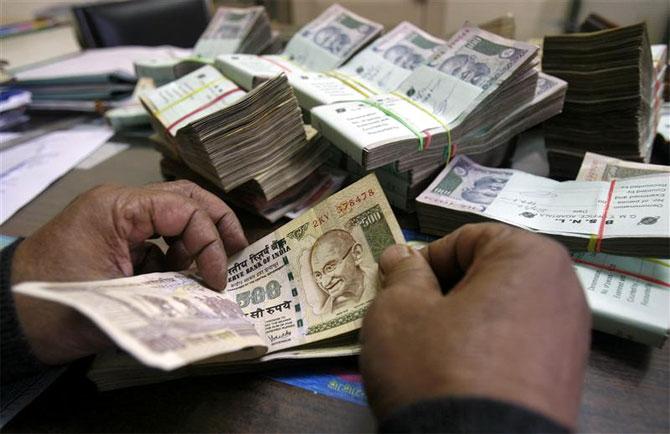 After a brief recovery, the rupee once again turned shaky and ended lower by 17 paise at 66.88 due to frantic dollar demand from importers and corporates.
Extremely bullish dollar sentiment overseas backed by firm Fed rate hike hopes alongside an adverse spillover effect of $22.4 billion possible outflow in the wake of ongoing FCNR-B redemption largely added pressure on the local currency.
Hopes for an interest rate cut with both retail and wholesale inflation easing and dovish central banks around the world seemed somehow cushioned the slide.
At the Interbank Foreign Exchange (Forex) market, the domestic unit commenced remarkably lower at 66.81 as compared to weekend's closing level of 66.71 on bouts of dollar demand.
With stock markets also looking sluggish, the local unit fell further to hit a fresh intra-day low of 66.89 before concluding at 66.88, revealing a loss of 17 paise or 0.25 per cent.
The rupee had staged a smart recovery from its three-week low against the US currency on Friday.
Apart from the ongoing global headwinds against the backdrop of an impending Fed rate hike, nervousness was also underlined by the ongoing FCNR-B redemption pressure, a forex dealer commented.
In worldwide trade, greenback continued to hold its ground while consolidating in relatively narrow trading ranges bolstered by strong auto sales and producer prices that kept the December rate hike on the table in the eyes of the market.
However, speculators turned more bearish on euro in the run up to the UK's Brexit vote and a policy decision from the European Central Bank this week.
The dollar index, which measures its broader strength against a basket of currencies was marginally weak at 97.97 after climbing 98.085, its highest level since early March.
The RBI today fixed the reference rate for the dollar at 66.7779 and euro at 73.3689.
In cross-currency trades, the rupee maintained its strong surge against the pound sterling and settled at 81.29 from 81.58 previously.
On the other hand, it fell back against the euro to finish at 73.33 as compared to 73.43 and also declined against the Japanese yen to close at 64.23 from 63.98 per 100 yens earlier.
In the meantime, India's foreign exchange reserves declined by a whopping $4.343 billion to $367.646 billion in the week to October 7.
FIIs have turned net sellers after recent buying spree and sold a net $199.26 million last week as per Sebi's record.
In the forward market, premium for dollar remained subdued owing to sustained receiving by exporters.
The benchmark six-month premium for March drifted to 164.5-166.5 paise from 166-168 paise and the forward-September 2017 contract also moved down to 342-344 paise from 344-346 paise.
Domestic equities once again succumbed to immense selling pressure after a brief recovery due to uncertainty surrounding the outcome of second-quarter corporate results and also weak global sentiment.
The flagship BSE Sensex plunged over 143 points to end at 27,529.97, while broader Nifty shed 63 points at 8,520.40.
Crude prices are trading a bit softer with the Brent crude, the international benchmark down 0.3 per cent at $51.82 a barrel and West Texas Intermediate shedding 0.5 per cent to $50.11.