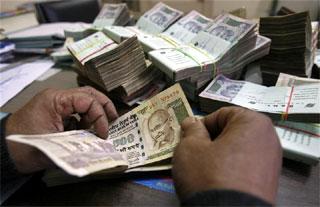 The Indian rupee closed little changed on Monday as improved sentiment from upbeat U.S. data and smaller-than-feared capital shortfalls at European banks were offset by weaker local shares and caution about recent gains in the domestic currency.
All eyes are now the Federal Reserve meeting ending on Wednesday.
The U.S. central bank is expected to end its government bond purchases, while giving accompanying assurances that it will respond if a global downturn threatens the US economy.
Analysts add any indication of earlier-than-expected U.S. rate hikes could hit emerging market currencies.
The rupee is up around 0.77 percent so far this year, thanks to $35 billion in foreign investments into debt and stocks.
"If the Fed gives out clear signals that a rate hike may not be very far away, then we can expect some pressure on the rupee," said Chintan Karnani, chief analyst at Insignia Consultants, a currency risk advisory firm in New Delhi.
The partially convertible rupee closed at 61.30/31 per dollar, little changed from its Wednesday's close of 61.31/32.
Markets were closed on Thursday and Friday for holidays.
Sentiment improved as Asian currencies were lifted after upbeat U.S. home sales data and after the European Central Bank said fewer than one in five of the euro zone's top lenders failed stress tests at the end of last year.
But gains in the rupee were kept in check as domestic shares faltered, ending a five-session gain.
In the offshore non-deliverable forwards, the one-month contract was at 61.59, while the three-month contract was at 62.18.
FACTORS TO WATCH
* Yen edges up as risk aversion lingers * Won leads gains among emerging Asian currencies
* Brazil markets set for losses after Rousseff win
* Foreign institutional investor flows
* For data on currency futures
DIARIES & DATA:
Indian Data Watch European diary Indian diary US Diary