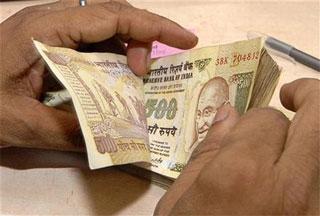 The Indian rupee trimmed its initial losses against the American currency but was still quoted down by 10 paise to 61.46 per dollar on some demand from banks and importers in view of firm dollar in the overseas market.
The rupee resumed lower at 61.50 per dollar as against the last closing level of 61.36 per dollar at the Interbank Foreign Exchange (Forex) Market and moved down further to 61.51 per dollar on initial dollar demand from banks on the back of higher dollar in the global market.
However, it trimmed its initial losses and was quoted at 61.46 per dollar in view of good foreign capital inflows into equity market.
It hovered in a range of 61.46-61.51 per dollar during the morning trade.
The Indian benchmark Sensex declined by 15.20 points or 0.05 per cent to 27,850.63 at 1000 hrs, after hitting an all-time high of 27,969.82 in the early trade.
In New York market, the US dollar hit its highest level against the yen in nearly seven years on last Friday, after the Bank of Japan unexpectedly announced new measures to spur Japanese growth.
Meanwhile, oil prices were mixed in Asia today as dealers focused on a slew of global manufacturing data for clues about demand growth, while a strong dollar capped any gains, analysts said.
US benchmark West Texas Intermediate (WTI) for December delivery fell four cents to $80.50 while Brent crude for December was up four cents at $85.90 in mid-morning trade.