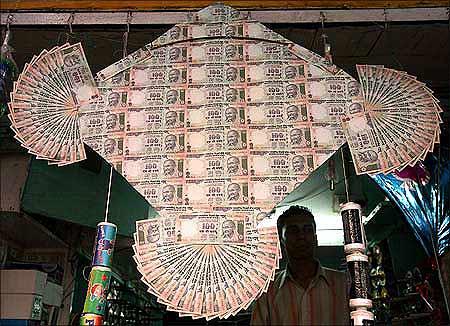 The rupee rose by 15 paise to end at 66.32 against the US dollar on fresh selling of the American currency by banks and exporters on the back of lower greenback in overseas markets.
The local currency opened higher at 66.37 as against Monday's level of 66.47 at the Interbank Foreign Exchange market and firmed up further to 66.3150 before ending at 66.32, showing a gain of 15 paise or 0.23 per cent.
The rupee had dropped by 29 paise, or 0.44 per cent, in previous two days.
It hovered in a range of 66.4700 to 66.3150 during the day.
The dollar index was trading lower by 0.19 per cent against a basket of six currencies in late afternoon trade.
In Asia, the dollar declined on Tuesday, weighed on uncertainty over the pace of anticipated US interest rate increases.
Following comments made by senior Federal Reserve officials pointing to rate increases in December, market participants have largely factored in the December lift-off.
They also expect a few more increases next year.
However, in New York, the dollar rose to its highest level on Monday against the euro since mid-April, after hawkish comments from San Francisco Federal Reserve President John Williams over the weekend reiterated the case for raising interest rates in December.
Veracity Group CEO Pramit Brahmbhatt said, "The rupee opened on a positive note, but on the back of demand for the US dollar and expectation of an interest rate hike in December, we witnessed buying in greenback and that led it to trade at high point of the day."
The trading range for the spot USD/INR pair is expected to be within 66 to 66.80 levels.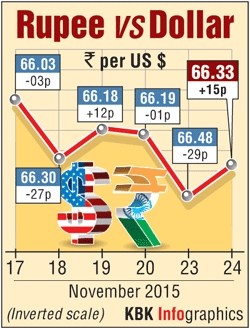 In forward market on Tuesday, premium for dollar showed a narrowly mixed trend due to uneven demand and supply transactions.
The benchmark six-month premium payable in April moved down further to 179.5-181.5 paise from 180-182 paise yesterday while far forward October 2016 contract inched up to 388.5-390.5 paise from 387.5-389.5 paise.
The RBI fixed the reference rate for the dollar at 66.3840 and for the euro at 70.5529.
The rupee firmed up further against the pound sterling to end at 100.26 from 100.54 yesterday and also moved up against the euro to settle at 70.60 as against 70.64.
However, the domestic currency moved down further against the Japanese unit to close at 54.11 per 100 yen from 53.98.