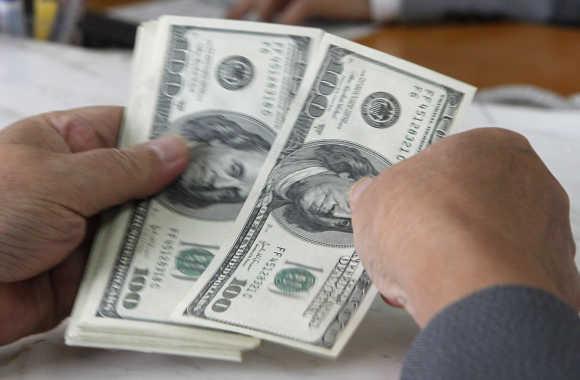 The rupee weakened for a fourth session in five on Tuesday as the dollar resumed its recent rally while profit-taking at the BSE Sensex failed to provide the local unit much impetus.
The dollar climbed to a seven-year high against the yen on Tuesday after a Japanese government official told Reuters that Prime Minister Shinzo Abe was likely to delay a planned sales tax increase.
The index of the dollar against six majors was up 0.2 per cent while most Asian currencies too weakened against the dollar.
Traders are now looking ahead at the consumer price data due post-market close on Wednesday amid rising expectations that the central bank may opt for earlier-than-anticipated rate cuts if inflation falls faster.
A Reuters survey of economists and analysts predicted consumer price inflation cooled to an annual 5.80 per cent in October, a record-low, dragged by a sharp drop in food and oil prices.
"Retail inflation will be important for markets."
"The strike tomorrow may have impact volumes to some extent. But broadly 61 to 62 per dollar range on the rupee to continue," said Ashtosh Raina, head of foreign exchange trading at HDFC Bank.
Dealers are bracing for low volumes across all markets in India on Wednesday as unions at most banks have called for a nationwide strike that is expected to leave trading rooms with minimal staffing but not shut down activity altogether.
The partially convertible rupee closed at 61.55/56 per dollar compared with 61.4950/5050 on Monday.
The rupee had hit an intra-day low of 61.6750 on Friday, its lowest level since Oct. 17.
The Sensex edged higher on Tuesday as rate-sensitive stocks such as ICICI Bank rose on hopes lower retail inflation data would lead to early interest rate cuts, although profit-taking prevented the indexes from hitting further record highs.
Traders will continue to monitor the dollar's moves as well as foreign fund flows.
Foreign investors have bought shares worth a net $1.3 billion in November, taking total inflows so far in 2014 to $14.96 billion.
Net inflows into debt in the year stand at $22.9 billion. In the offshore non-deliverable forwards, the one-month contract was at 61.89, while the three-month was at 62.45.