Some caution ahead of the GDP growth data and buoyant dollar overseas predominantly impacted trading sentiments.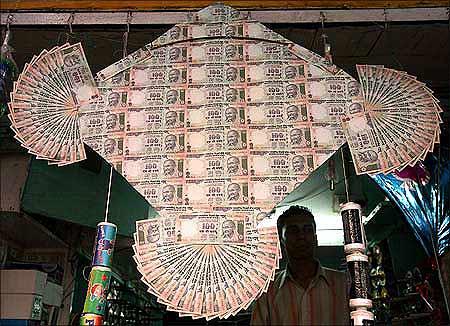 Falling for the second straight day, the rupee on Tuesday lost 10 paise against the US dollar to settle at 67.26 a dollar due to sustained demand for the American currency from banks and importers.
Some caution ahead of the GDP growth data and buoyant dollar overseas predominantly impacted trading sentiments.
Sluggish local equity markets after five-day rally also weighed on trade, though smooth supply of dollars due to persistent capital inflows into equities and debts largely cushioned the fall.
At the Interbank Foreign Exchange market, the domestic currency opened marginally higher at 67.15 as against its overnight closing value of 67.16 and strengthened further to touch intra-day high of 67.1075 tracking firm opening in the domestic market.
It turned volatile in late afternoon deals and drifted to hit a low of 67.33 following robust dollar demand from importers.
However, rupee made some recovery towards the fag-end session and closed at 67.26, revealing a loss of 10 paise, or 0.15 per cent. Yesterday, the rupee had lost 13 paise against the dollar.
Meanwhile, the RBI fixed the reference rate for the dollar at 67.2030 and euro at 74.7902.
In cross-currency trades, the rupee fell back against the pound sterling and ended at 98.46 from 98.12 and declined against the euro to finish at 75.10 compared to 74.82 earlier.
The domestic unit also weakened against the yen to close at 60.58 per 100 yens from 60.46 on Monday.

Meanwhile, FIIs continued to mop up Indian stocks and bought shares worth a net Rs 355.54 crore yesterday, as per the provisional data.
On the global front, the dollar continued to hover at two-month highs against other major currencies on growing expectations for an imminent rate hike next month even as investors eyed the release of key macro data later in the day.
Brent crude prices fell on rising output from the West Asia and ahead of an OPEC meeting later this week.
In forward market, premium for dollar fell further sharply due to sustained receivings from exporters.
The benchmark 6-month premium for October moved down to 168.5-169.5 paise from 170-172 paise and far forward April 2017 contract also edged down to 361.75-362.75 paise compared to 364.5-366.5 paise yesterday.
In the meantime, Indian markets snapped their five-day stellar rally and succumbed to fresh profit-taking.
The flagship index Sensex fell by 58 points to finish at 26,667.96 while the broader Nifty lost over 18 points to settle at 8,160.10.